Attendance is Important for Student Success
Audrey Jordan
Wednesday, July 24, 2019
July is coming to an end, and it's almost time for the school year to begin. Here at Yale Public Schools, we're looking forward to getting acquainted with our new students; reconnecting with our returning students; and seeing them all learn, grow, and work toward their goals.
We're concerned, however, about student attendance. Our teachers want to see all of our students in class every single day – and it's not just for the selfish reason that we enjoy spending time with them. Over the past few years, we've learned some important facts about the impact of school attendance and absenteeism on academic success, and we'd like to share them with our community.
Across many different resources* - including the Oklahoma State Department of Education – chronic absenteeism is defined as missing 10% of more of school days in a single school year. In Yale Public Schools, the 2019-20 school year will have 167 days; this means that a student who misses 16 days or more this school year will be considered chronically absent. If a student misses just 2 days a month – or one day every 2 weeks – they'll hit 16 absences before April.
This may come as a surprise to our students and their families. Missing only two days a month doesn't seem like very much - after all, most of their classmates miss a day every now and again.
However, scientific research on chronic absenteeism tells us that kids who fall into this category may be at risk for a number of academic problems – whether their absences are excused or unexcused, and whether they're in elementary school, junior high, or high school. When compared to students who have good attendance, students with chronic absenteeism:
are more likely to fall behind their peers in the critical areas of math and reading.
are less likely to read proficiently, and less likely to pass state reading tests.
have lower grades and are more likely to fail classes.
are more likely to fail grade levels, and to be retained in their grade level.
are more likely to drop out of high school before they graduate.
The good news, however, is that improving attendance can improve a student's academic abilities, grades, state test scores, and likelihood of graduation. The research tells us that even if a student has experienced chronic absenteeism in the past, they can still turn things around by attending school as much as possible in the future.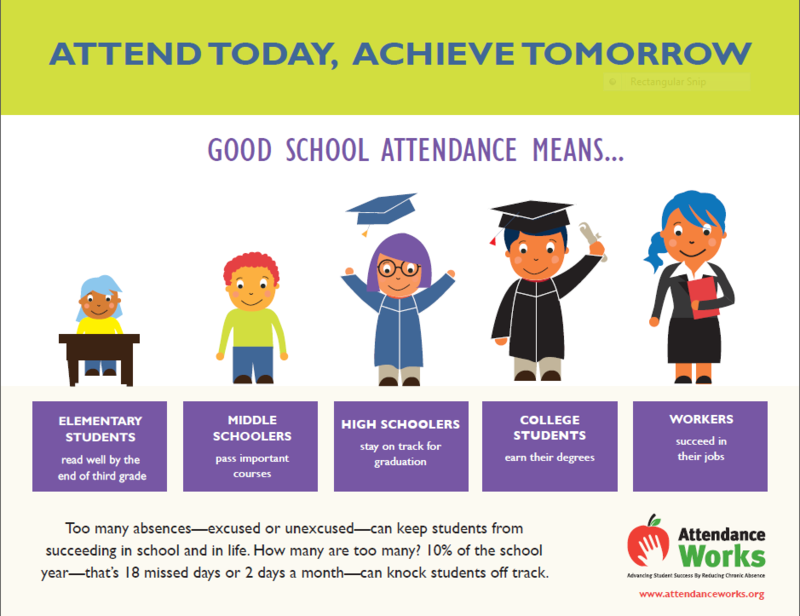 At Yale Public Schools, we will continue working to make our schools a safe and interesting place for students to visit every day, and we will strive to model good attendance habits by minimizing our own absences from work. We hope that our students and their families will join us in committing to make school attendance a high priority this year.
* To learn more about school attendance and chronic absenteeism, we recommend visiting these resources: