Just a reminder, cheer camp has been rescheduled for Oct. 25-Oct 27 and will perform on Friday, Oct. 29. Please see attached flyer for more information!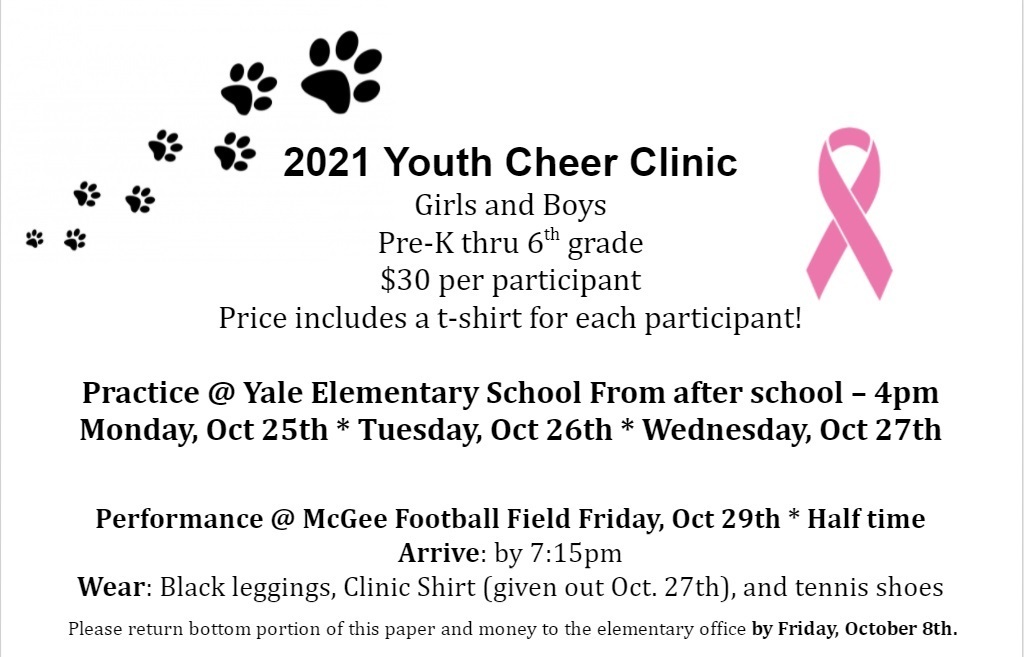 YPS Family, We are going to try something a little different tomorrow in regards to making meals available to our families. Meals will still be available for pickup at the high school parking lot area from 11:00-12:30. On a trial basis we will add four sites to make meals more accessible. Meals will be delivered to the following sites from 11:45-12:15. 1. Advent Christian Church on 44th and Hwy 18-Mr. Fuss and Mr. Fowler will be in the Ag truck. 2. Old Hwy 51 and Doll Road-Ms. Angela and Ms. Jessica will be in the drivers ed car. 3. Greenwood Cemetery-Mr. Olinghouse and Ms. Coffman will be in the yellow handicap bus. 4. The southwest corner of the new gym parking lot-Mr. Sturgeon will be in his truck. Feel free to bring your child to any of these sites for a free meal. We hope that this process helps to ease some of the difficulties associated with distance learning.

Yale students in grades 6-12 are encouraged to use the attached schedule to make contact with their teachers. We also would like to remind everyone that all staff members are in the building, so if any need arises please call the school and we will be glad to assist you.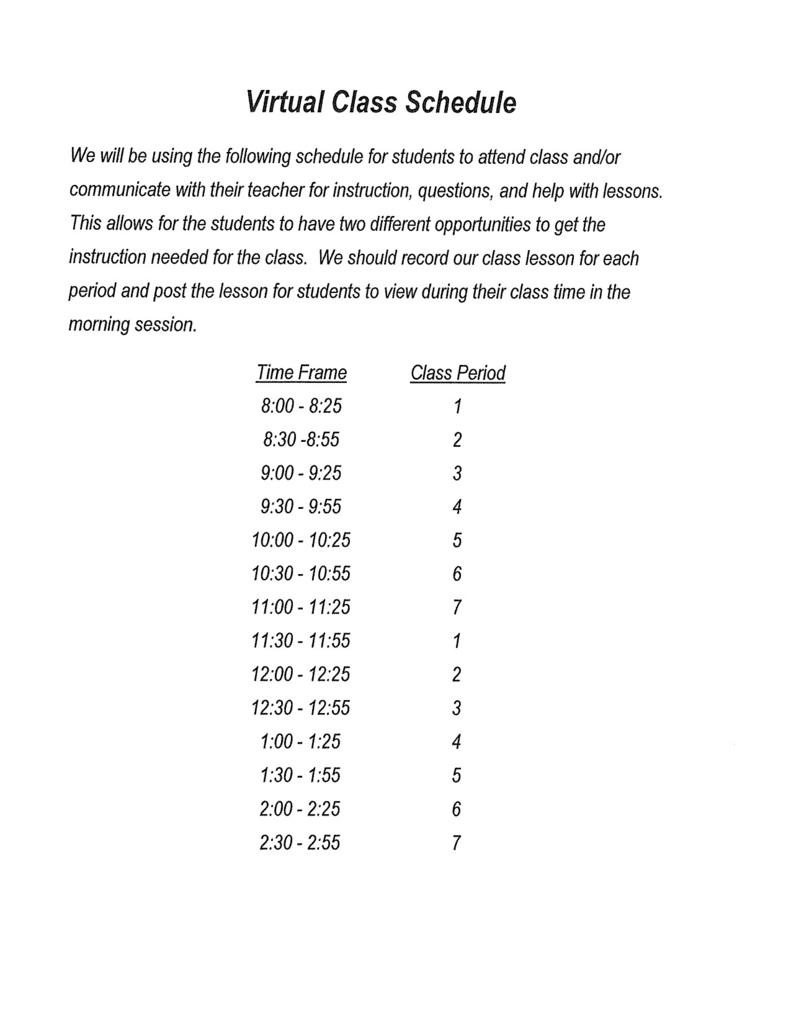 YPS Family, Covid has been hitting our student population very hard. Due to this sharp increase we feel that it is best for our district to transition to distance learning. We will use today to prepare our students for the coming days of distance learning. Yale Schools will begin distance learning on Thursday, September 16 and will plan to resume regular classes on Monday, September 27. YPS will still plan to complete parent-teacher conferences virtually on Tues and Thur evenings of next week. We were already scheduled to be out of school on Friday, September 24. Students will be able to check out chromebooks but will need internet connectivity at home for it to be very useful. Parental consent must be given for students to take responsibility for their chromebook. Contract letters can be obtained from either school office. Chromebooks will be available for checkout throughout the distance learning process. Teachers will be using their regular social platform, Google Classroom or Seesaw, to connect with their students daily. Paper packets can be made available upon request. YPS staff will be working from their classrooms during distance learning. Students will also have the opportunity to pick up meals during this time. Meals can be picked up from 11:00-12:30 by driving or walking through the high school parking lot. Extra-curricular activities will still take place as originally scheduled. We apologize for this inconvenience, but we appreciate your cooperation.

Happy Monday - PAWS-itivity Awards 🤩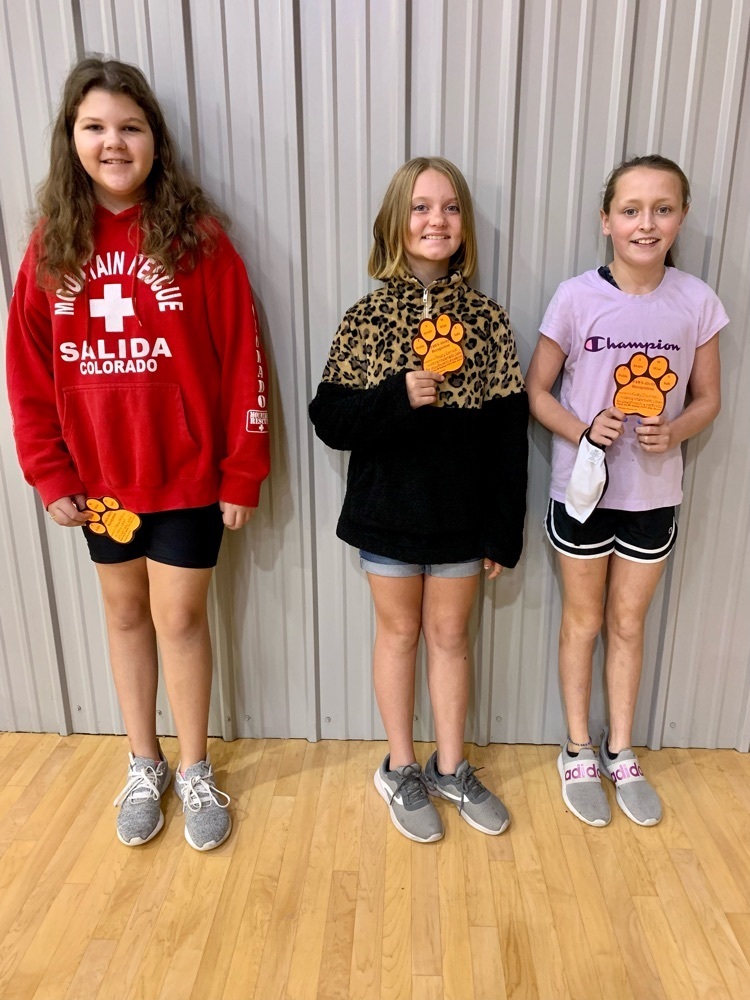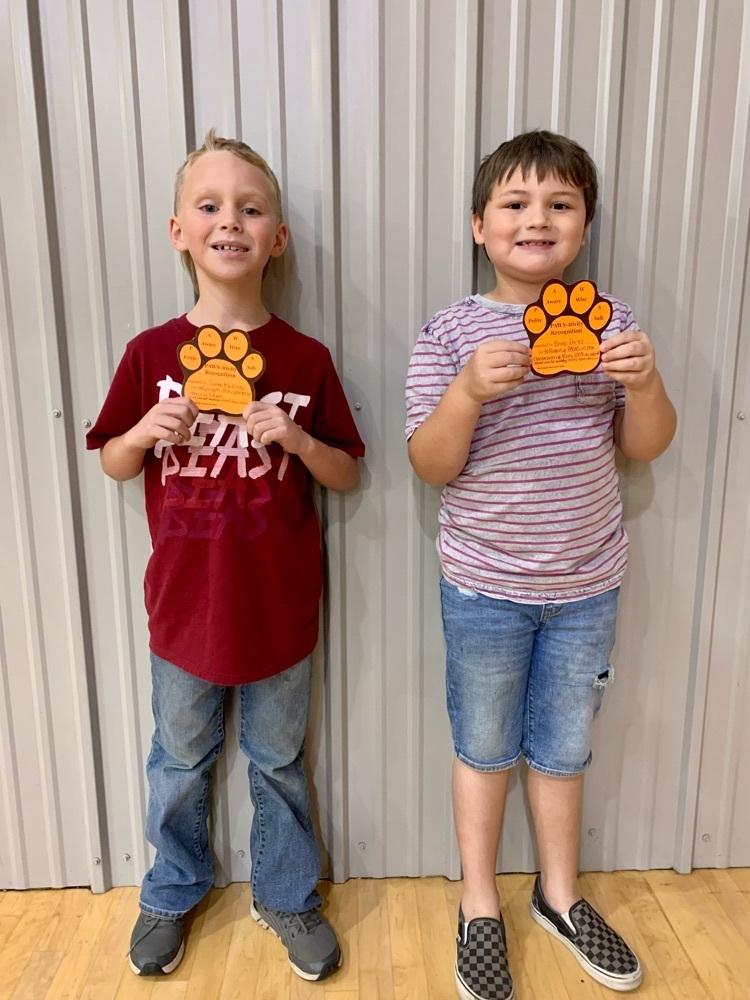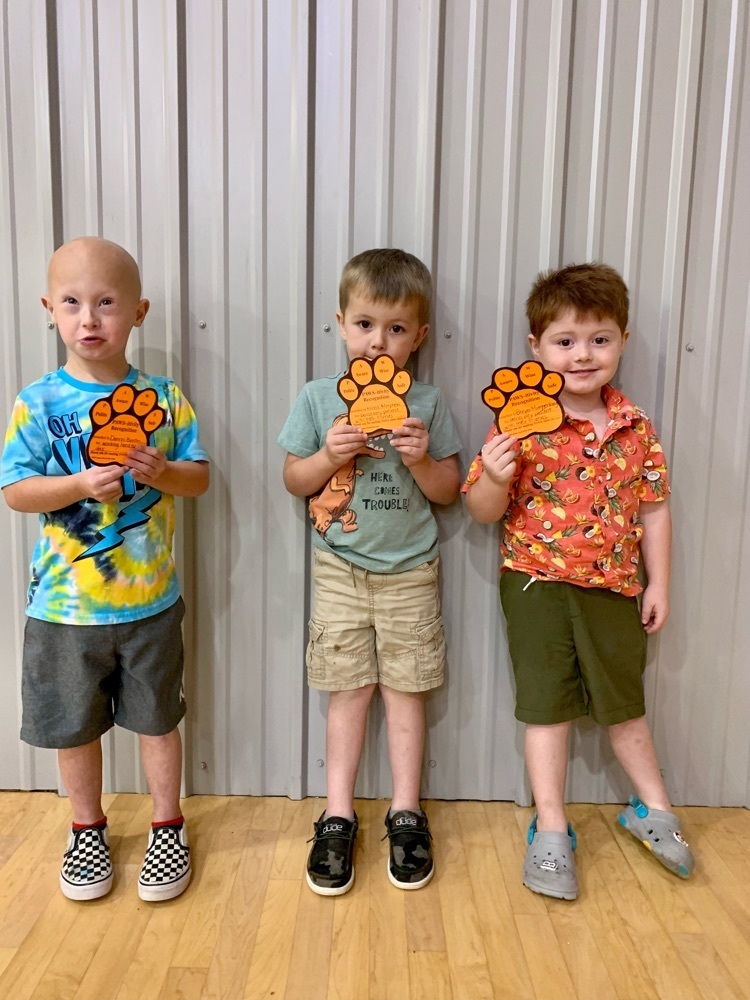 Yale Public Schools wants to provide its students and staff an educational environment that is as safe as possible. In attempting to provide a safe environment, YPS will encourage all students, staff, and visitors to wear a mask or face covering when entering all buildings. Yale Public Schools will also expect all individuals identified through contact tracing as close contacts to a positive case to quarantine for ten days or seven days with a negative test on or after the fifth day. Thank you for your cooperation

Yale Elementary has had a positive COVID case that has affected the fourth grade class. All those who have been in close contact have been informed today. If you have any concerns or questions, please reach out to the elementary office at 918-387-2428 ext. 4

The phone lines are currently down at all sites for Yale Public Schools. If you need to reach a staff member please email them, or stop in at the main office at both sites. We are working to correct the issue, and we will let you know as soon as it is corrected. Thank you for your understanding.

🐾 PAWS-itivity awards! 🐾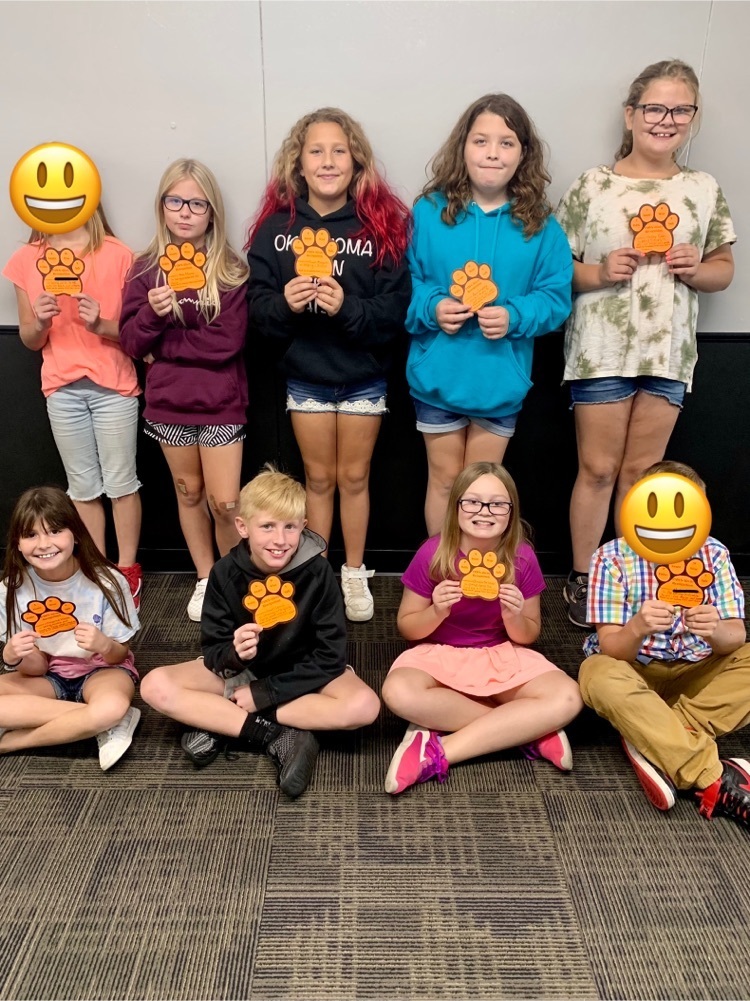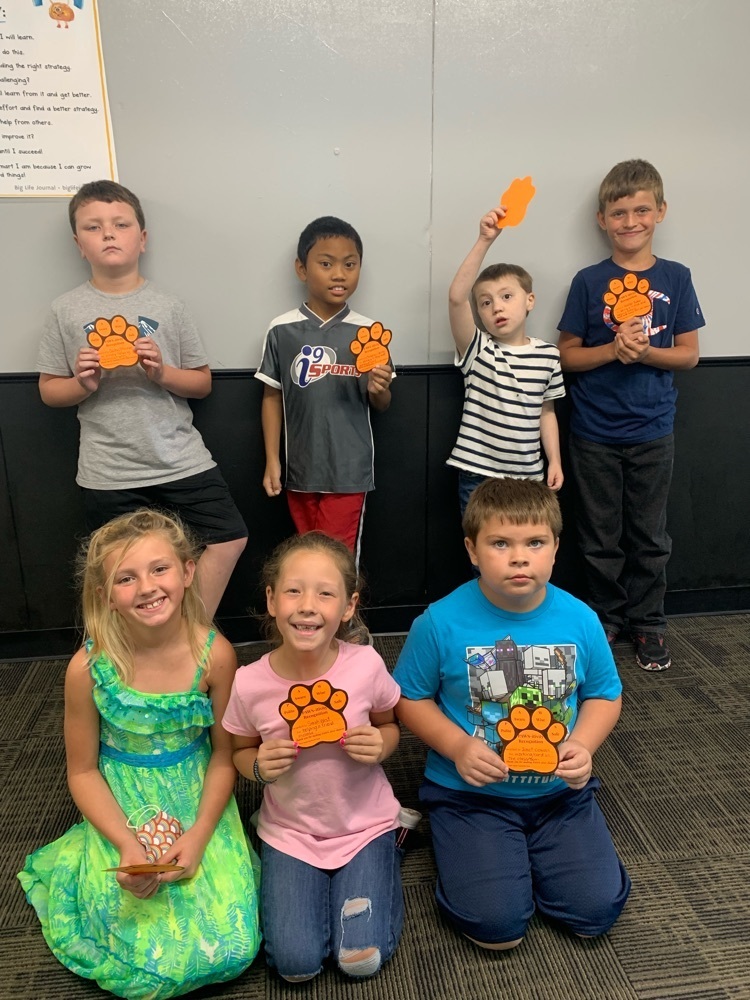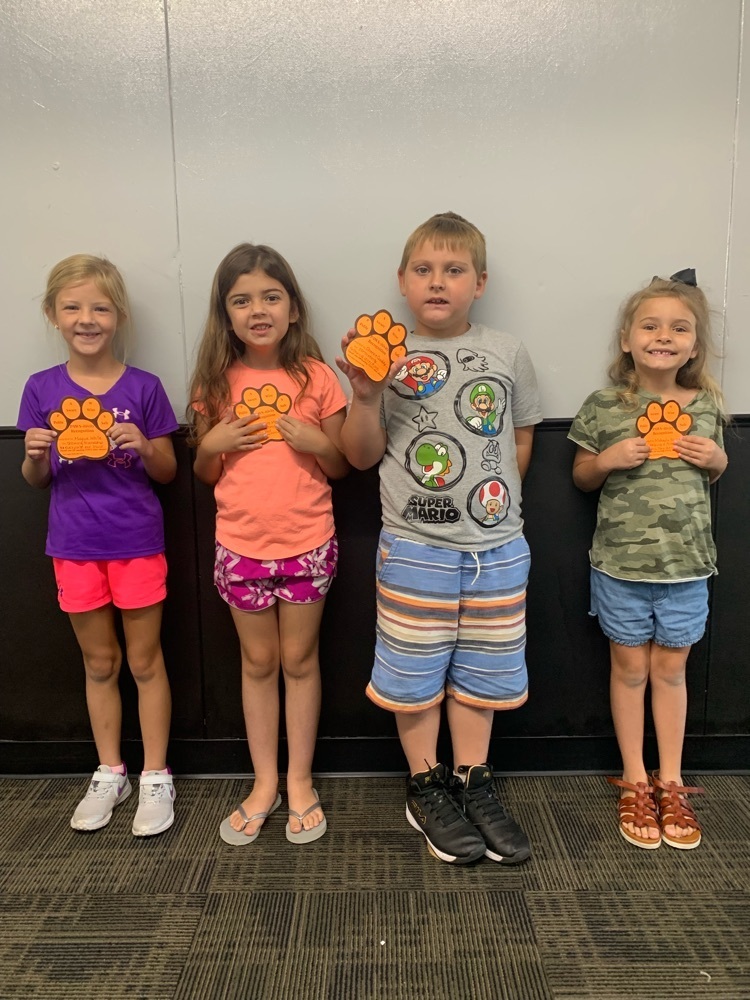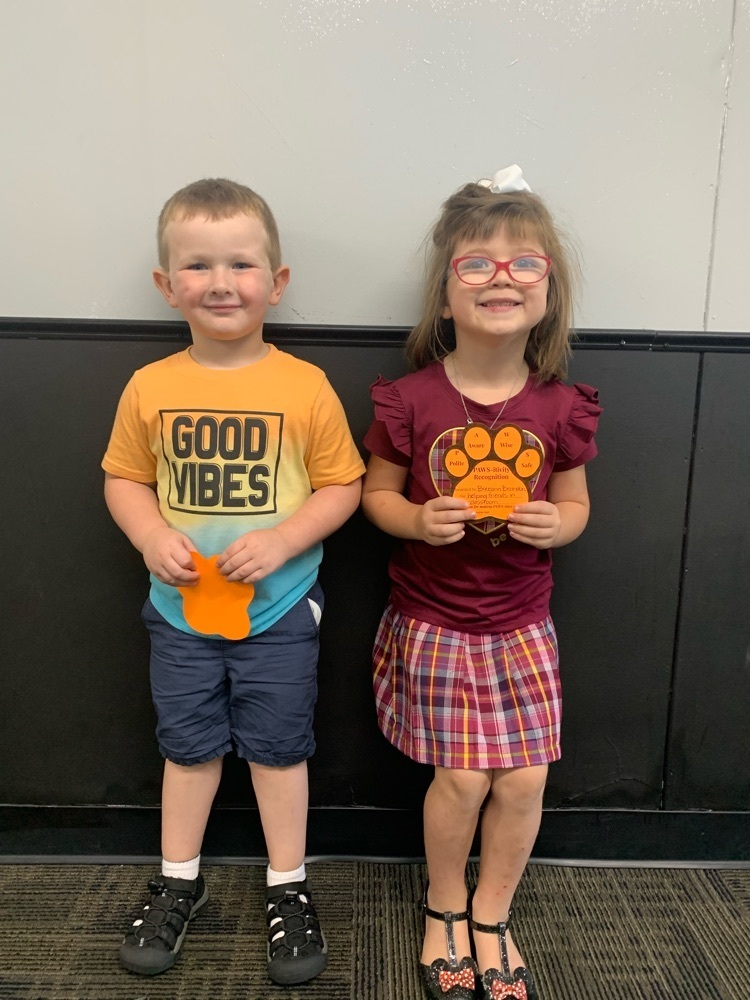 Today's junior high football game with Prue has been cancelled.


Yale High School Basketball is selling clothing items for their 2021-2022 season. Please see the attached flyers for more information. Orders are due by Sept. 8th. Reach out to Coach Moore with any questions! GO BULLDOGS!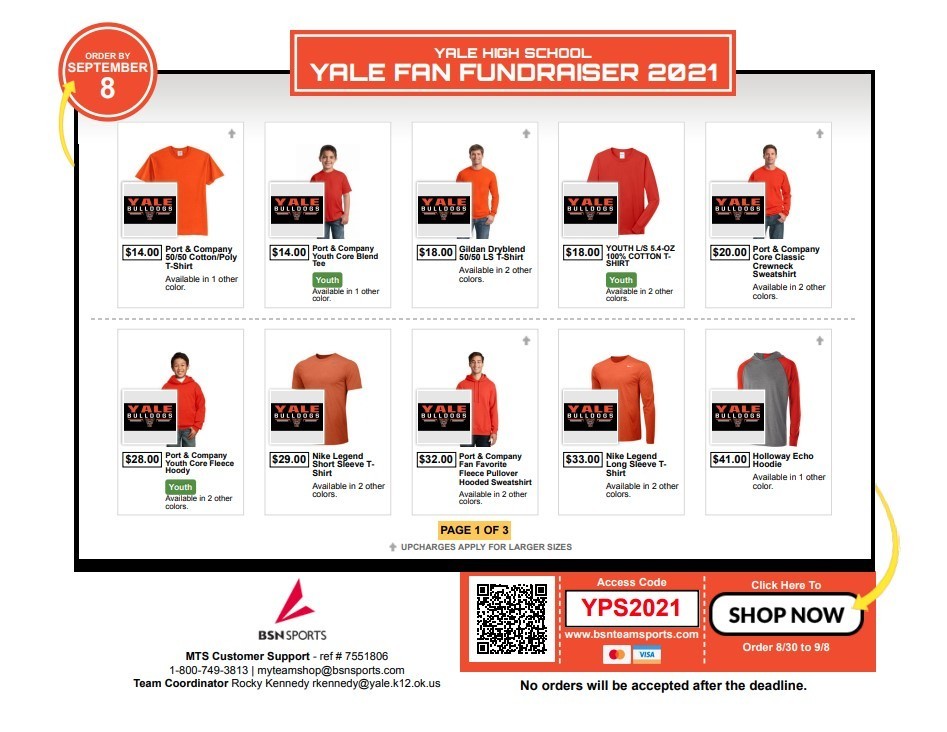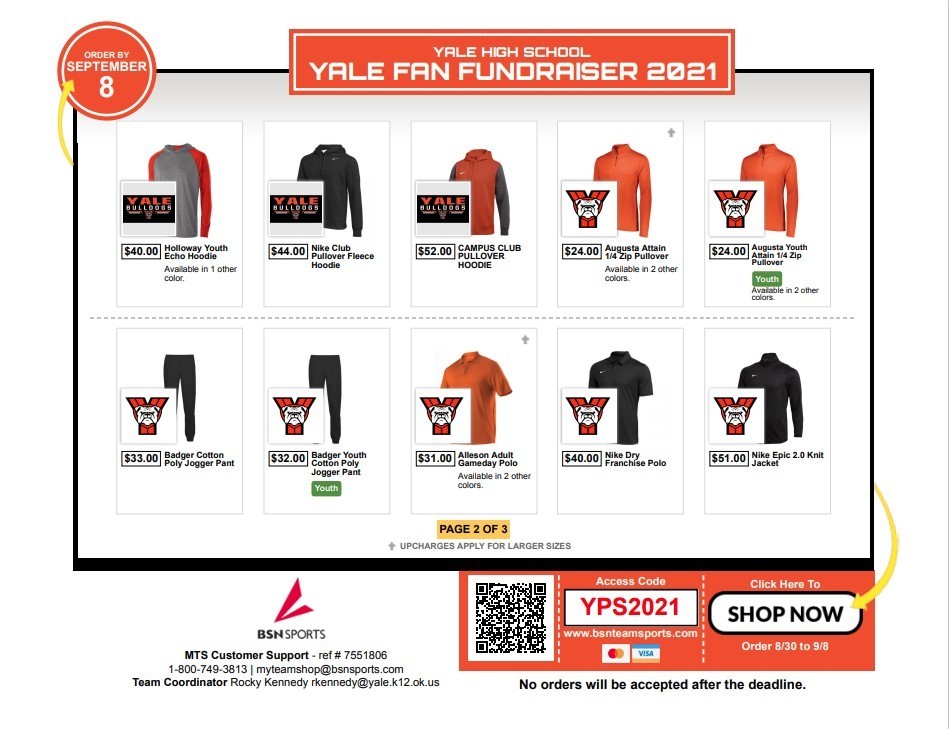 FFA students that are selling Blue & Gold need to have their order forms and money submitted to Mr. Fuss by 2:00 Friday afternoon. Thank you

Upcoming: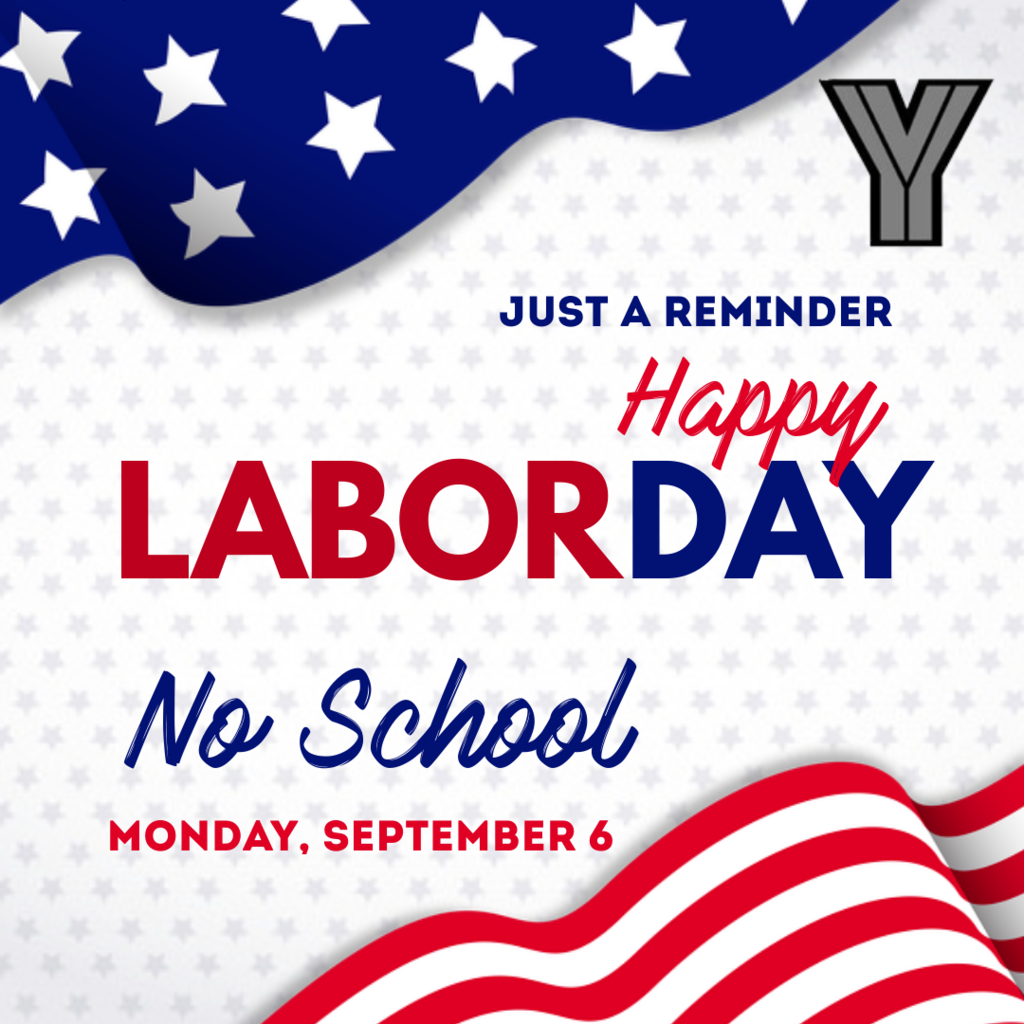 Covid is an ever changing situation. The illness is so fluid that it is extremely difficult to contact trace and keep everyone informed with accurate information. Yale Schools wants to be as transparent as possible so that parents can make informed decisions about the safety of their children. YPS currently has 11 students in the JH/HS that have tested positive within the last 10 days. YPS will continue to contact parents as best and as quickly as possible. We encourage anyone that has questions or concerns to please call the school. 918-387-2118. Thank you for your continued cooperation.

Our first PAWS-itivity Awards for the 2021-2022 school year!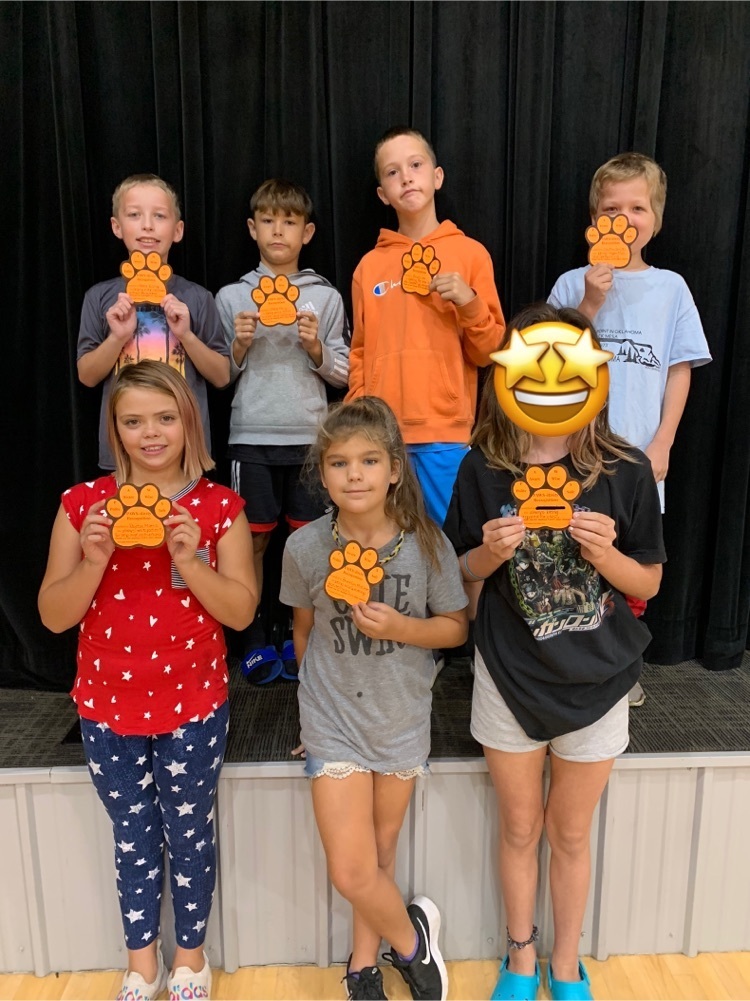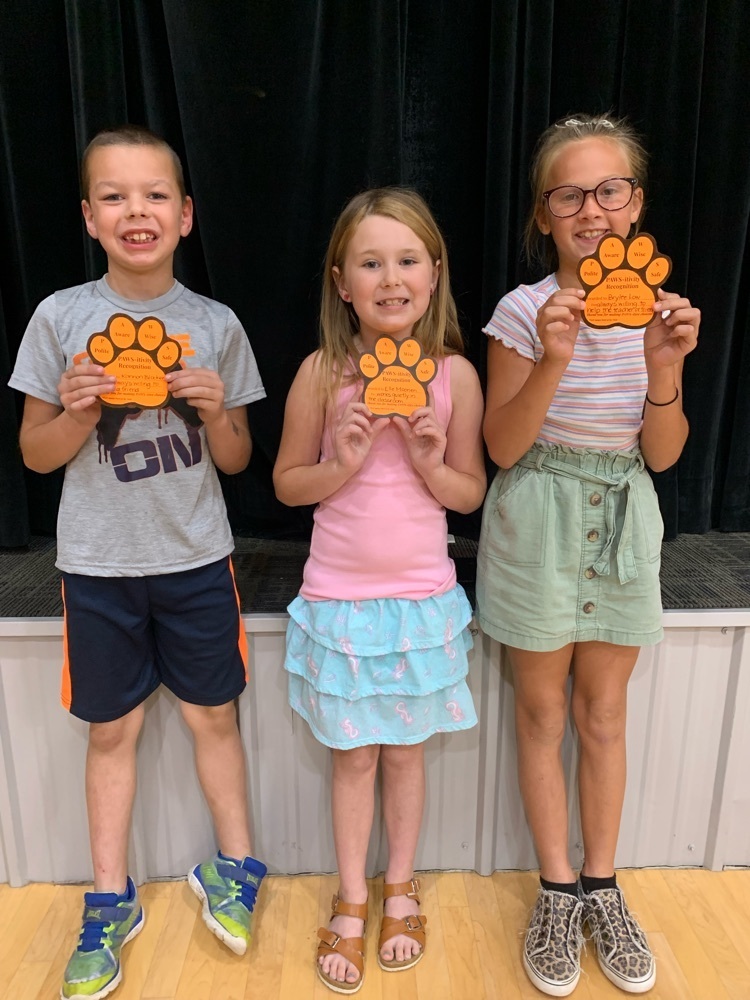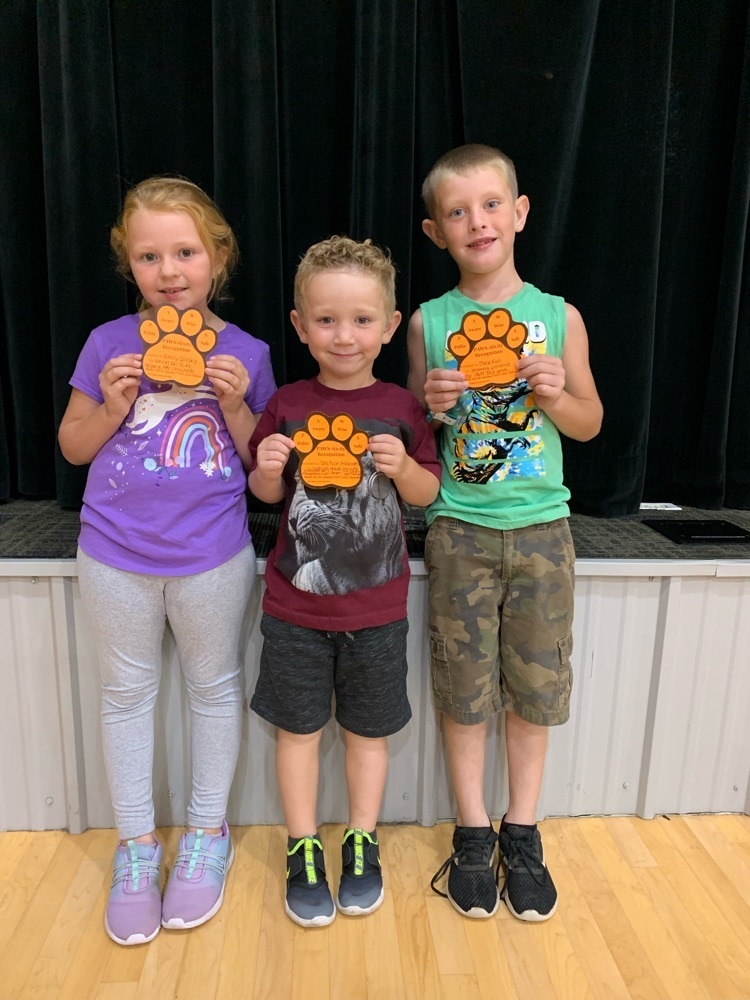 Yale FFA and Twin Mounds 4-h members had an outstanding week at the Payne County Fair. Sheep show Brylee Fuss exhibited a class winning commercial ewe and a 2nd place market lamb. Mena Watkins exhibited a 1st, 2nd, and 3rd place lambs Goat show August Hoeltzel exhibited 6 head including a class winning doe and a division champion wether. Kascen Humble exhibited 6 head including the Res. Grand doe. Swine show Payton Glasby exhibited the Res Champion Duroc and the Champion Yorkshire Cattle show Parker Beard exhibited the Champion Maintainer. Emma Shenold exhibited the Res. Grand Prospect steer and a 2nd place prospect steer. Zoie Williams exhibited the Champion commercial heifer, 1st place prospect steer, and the Res. Grand market steer. Gracey Morphew exhibited a 4th place prospect steer. Emily Morphew exhibited the Grand. Champion Market steer.

Today's volleyball match with Seminole has been postponed until a later date.

Pie Auction/Pep Rally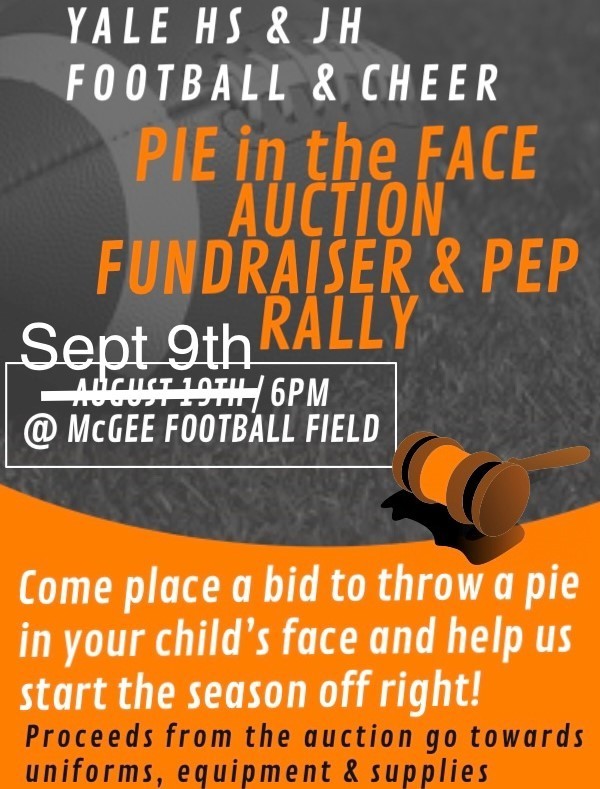 High school football will scrimmage this Thursday at Garber at 6:00.