Today's volleyball matches at Seminole have be cancelled. We will attempt to reschedule the match at a later date.

Congratulations Jenna Foutch!!

Yale Public Schools will follow the attached Covid guidelines.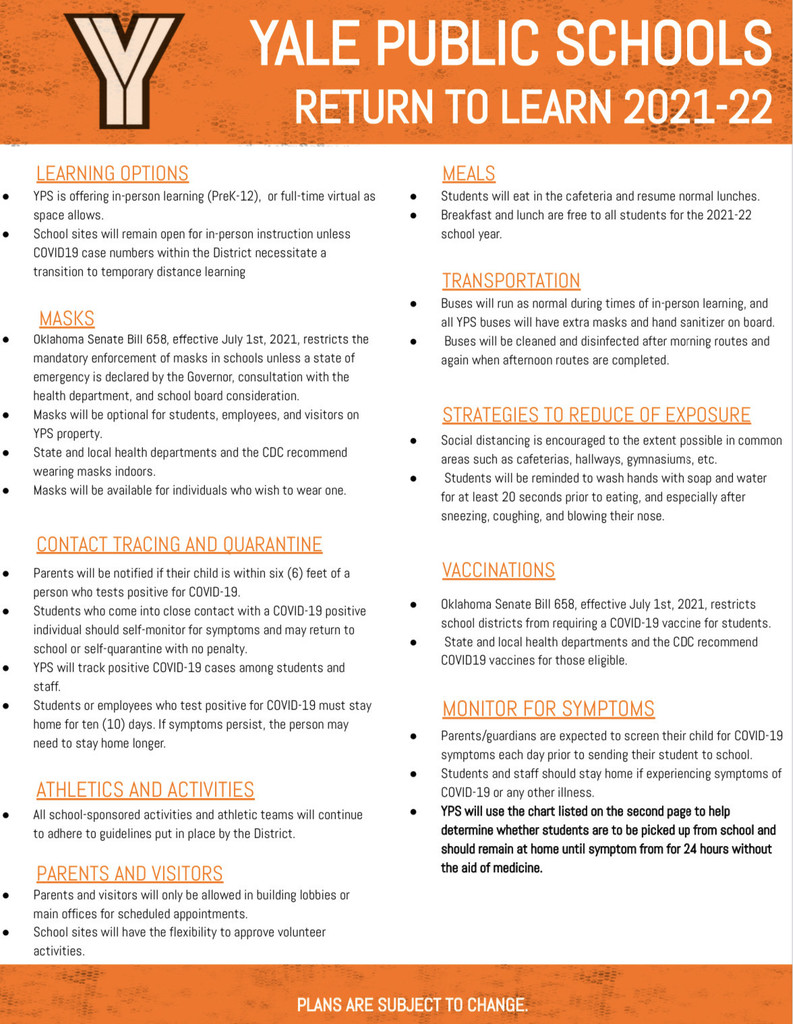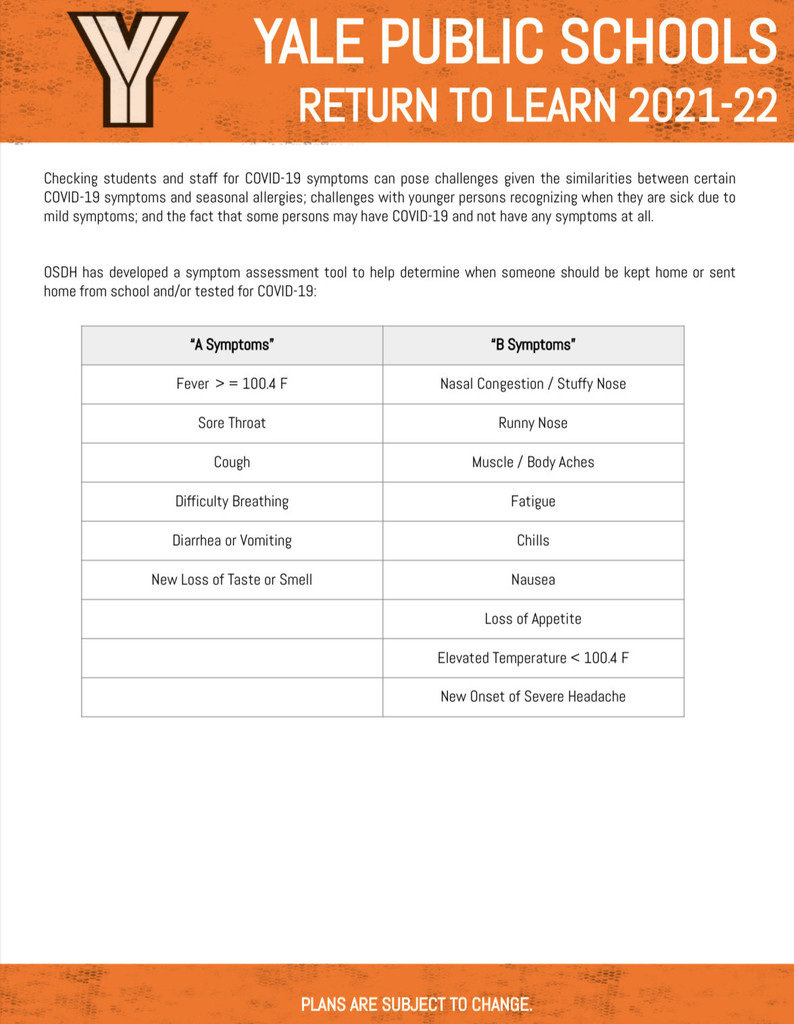 Yale High School has a couple of students that have tested positive for Covid. We are currently conducting contact tracing, and the appropriate parents will be notified as soon as possible.

Junior High and High School Parents, If you would like to change your child's class schedule, you will need to have your request submitted by noon on Friday. After this time, changes will only be made for emergency circumstances. We are attempting to keep classes as small as possible, so we can not guarantee all requests can be met. Please call or email Mr. Baker at
rbaker@yale.k12.ok.us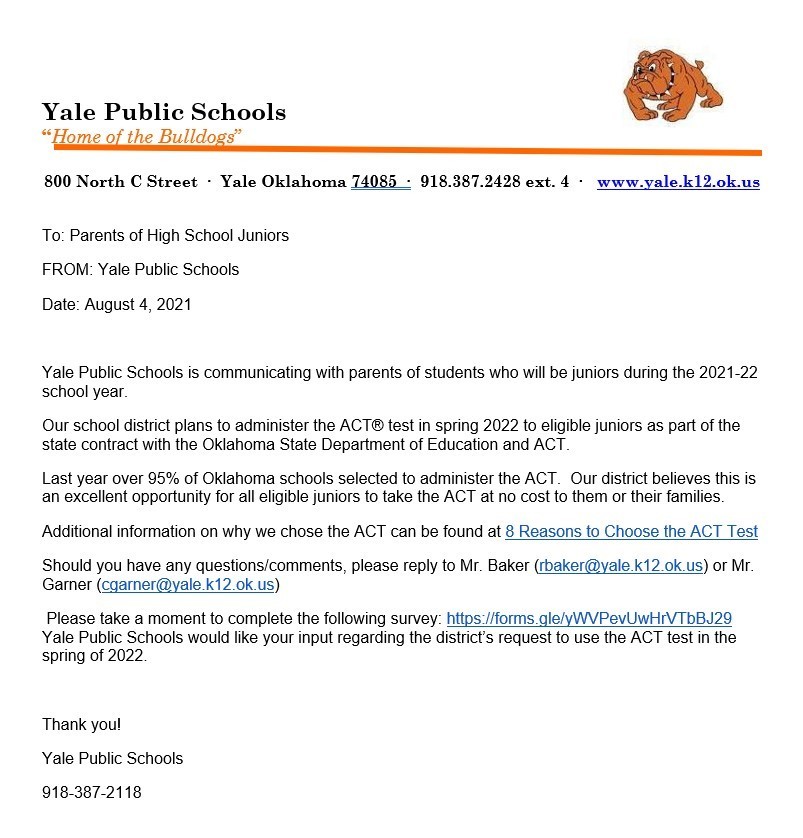 YHS FOOTBALL & CHEER PIE AUCTION!!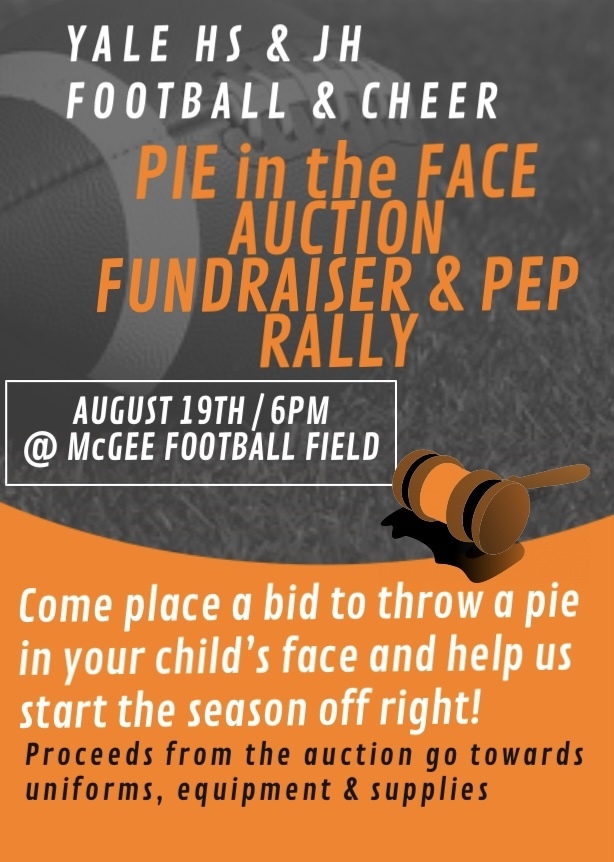 FREE ACT test- Wednesday, Aug 18 is the last day for students in grades 10th, 11th and 12th to sign up with Mr. Baker or Mr. Garner for the paper ACT. This test will be given in our building on Oct. 5 at 8 am.

High school volleyball will open their season tomorrow at the Hennessey Tournament. Their first match will start at 9:00 am. Admission is $5 for adults and $3.00 for students. A concession stand will be available.

Junior high football will have a parent meeting on Monday evening at 6:00 at the football field.

Thank you!! To our community, American Heritage Bank, Yale Chamber of Commerce and Genesis Hone Health for your generous donation of school supplies. We are very fortunate to have such kind and generous families supporting our school!!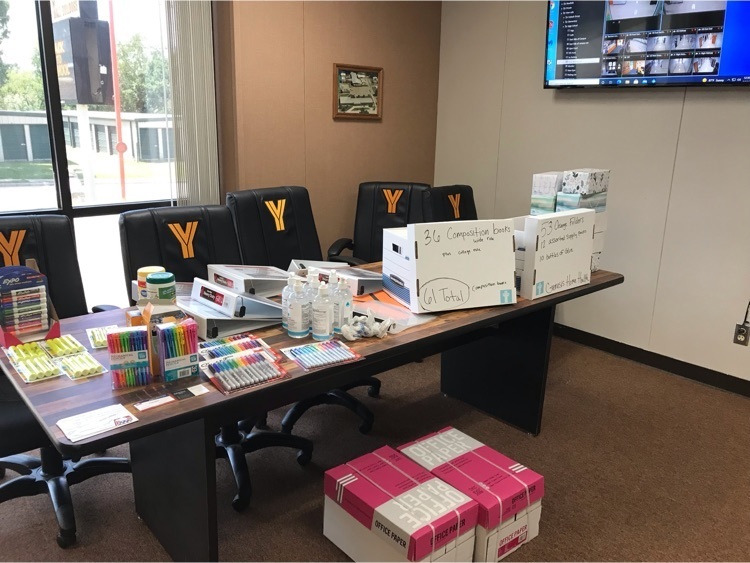 Bulldog Parents/Guardians: JUST A REMINDER: The Free and Reduced meal application is on our website. Please complete the application and return it to Sara Pitts at
cnapps@yale.k12.ok.us
or
sarapitts@yale.k12.ok.us
The following statement is from the Oklahoma State Department of Education, Child Nutrition Office. Although all meals may be served free in SY 2021-22, school districts are highly encouraged to continue to collect free and reduced-price meal applications, as a variety of other child nutrition programs and funding streams are tied to these forms. If you have questions, contact the Office of Child Nutrition at (405) 521-3327. Thank you in advance for completing the application!

Yale Public Schools will host an open house Tuesday, August 10th from 6 pm to 7 pm. Elementary class lists will also be released virtually at 6 pm. We look forward to visitors and recommend that masks be worn while in the building. Here's to an educational and safe school year!

Junior and high school football, volleyball, and cheer will have an opportunity for team photos Friday, August 6th at 6:00 at the football field. Individual photos will be taken at a later time.

Mrs. Cox has been working hard this summer to prepare the STEM lab for the school year. We are excited about this opportunity for our students.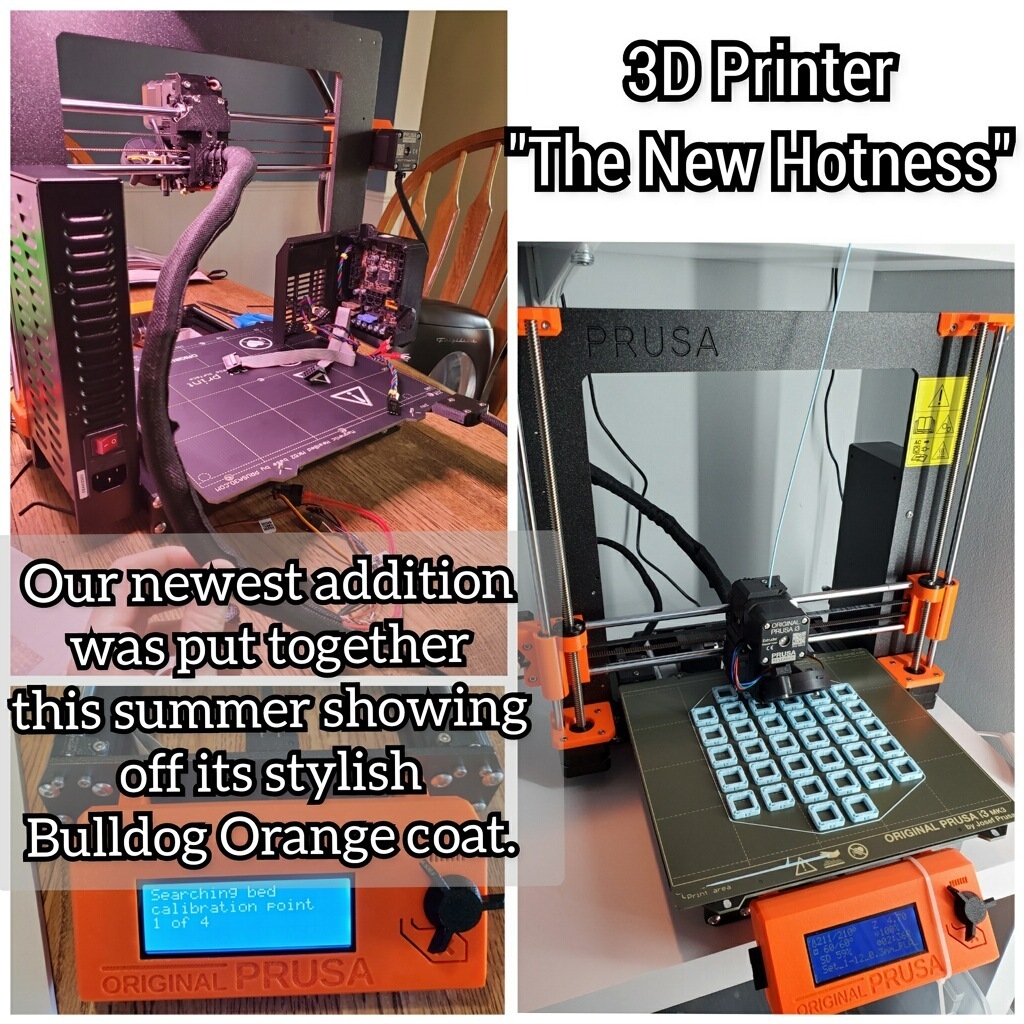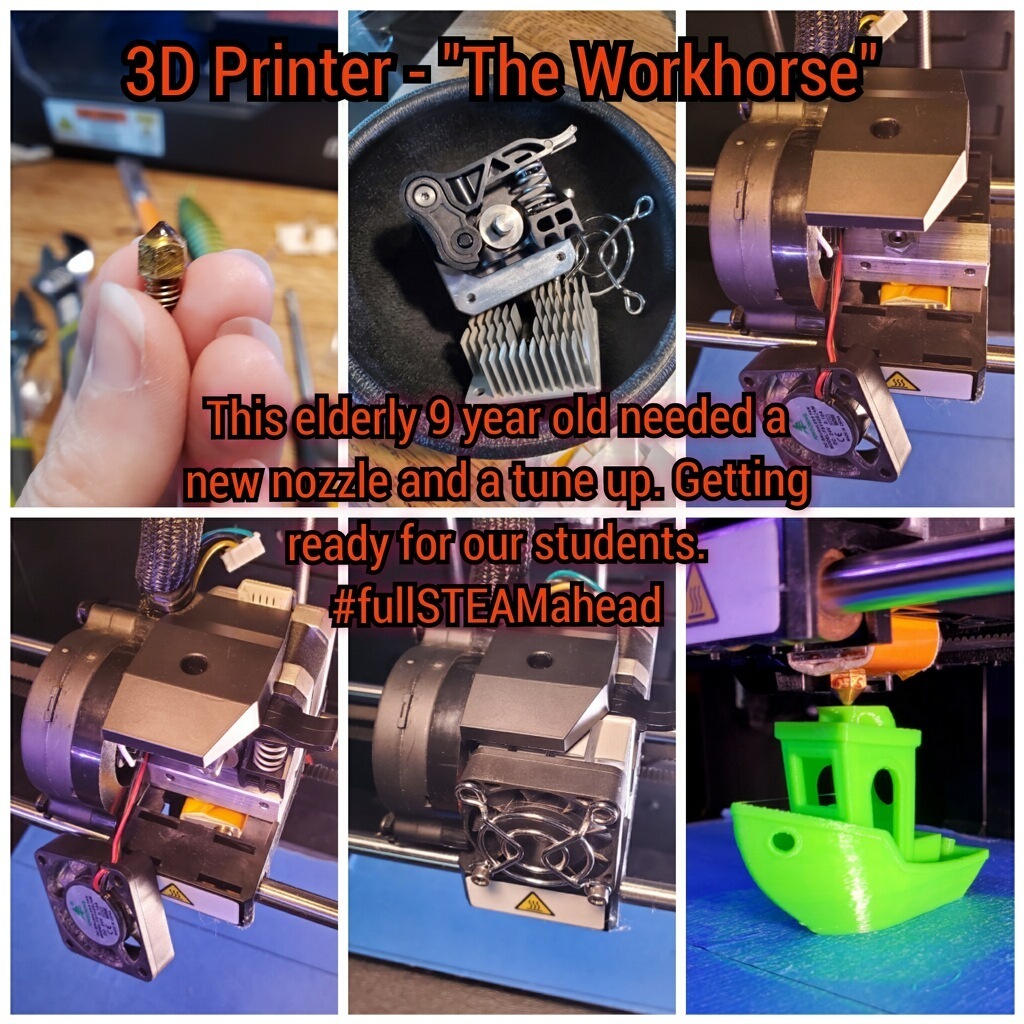 Yale High School is offering a free ACT to any currently enrolled juniors or seniors on Tuesday, October 5 at 8:00 am. If your student is interested in taking this ACT, they must contact Mr. Baker or Mr. Garner to let them know they will be testing on that day. Deadline to sign up is Wednesday, August 18.
EVERY student (regardless of income) eats free for the 2021-2022 school year. Meals will be paid for with federal COVID assistance. However, our fabulous child nutrition crew wants everyone to know it is EXTREMELY important that your household completes a 2021-2022 Free/Reduced Lunch application that will indicate many things for the 2022-2023 school year. If you haven't completed an application, please make it a priority. You can find a digital, printable copy on the school website at
www.yale.k12.ok.us
It is located under the Menu tab on the right side of our homepage under Docs, Child Nutrition. Once you have completed the interactive form, please copy, sign and return to Ms. Pitts, either by email
cnapps@yale.k12.ok.us
or drop off at the high school office. We are so very thankful for the little things and know each household is too!

Juniors and Seniors that need to speak with Mr. Baker about their class schedule need to make plans to stop in and see him on Monday or Tuesday, August 2-3. Sophomores can stop by on Wednesday, August 4th, Freshmen on Thursday August 5, and 6th-8th grade on Friday August 6th. Office hours are from 8:30-2:30. Class schedules can also be obtained through email. Send your questions and requests to
rbaker@yale.k12.ok.us

Yale Public Schools is now open for enrollment. Please use the following link for new and returning students:
https://yaleok-cas.hosted.src-solutions.com/cas_yaleok/login
If your student has never enrolled in our district, please scroll to the bottom and click "New Student Registration." If your student has ever attended our district any time in the past, they would be a Returning Student: username is their six digit student ID number and the password is date of birth (MMDDYYYY.) There are various ways to find student ID numbers, by either logging into Wengage (where grades are reported), on old report cards, or by calling the school's office at 387-2118. Each enrollment record is processed by our admin assistants, please complete the entire registration to the best of your ability and submit it. They will reach out with any questions or to collect missing information. If you have any questions or concerns, please reach out by using the number above. Thank you!

7th-12th grade band camp starts on Monday, August 2. Camp will run Mon-Thur from 8-12. Friday is TBD. Email Mr. Sturgeon at
esturgeon@yale.k12.ok.us
with any questions.