Today's high school softball games have been moved up. Softball will start about 3:00 in Carney. The team will leave after all members return from their field trip.

Friday's HS baseball game at Hominy has been moved to Thursday at 5:00 PM at Hominy.

PAWS-itivity were handed out yesterday!!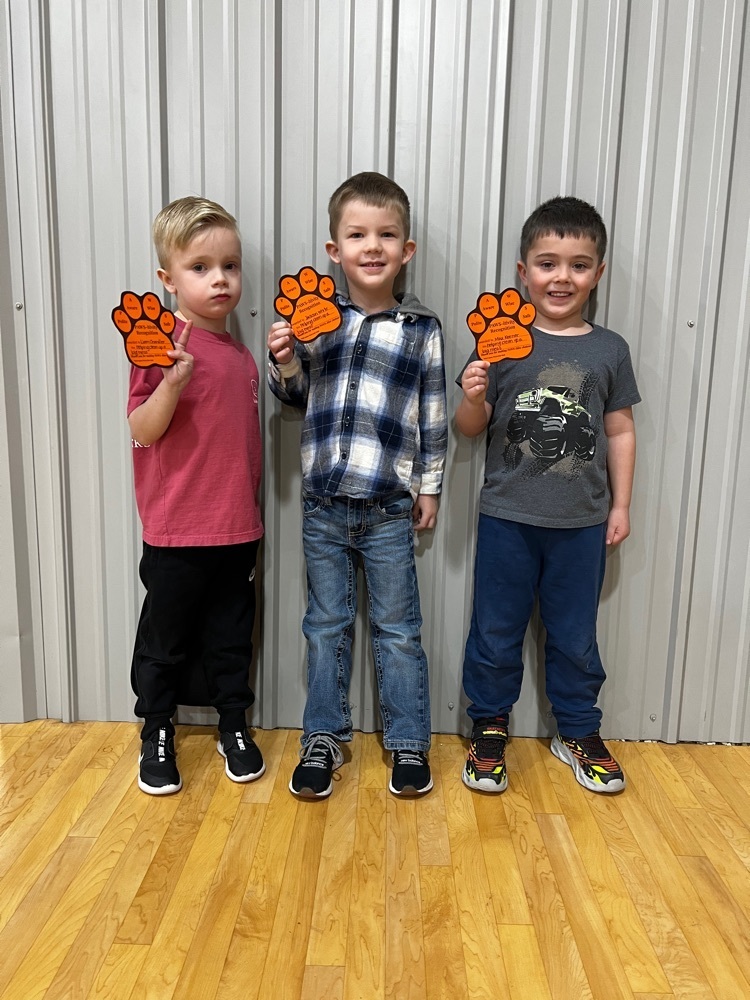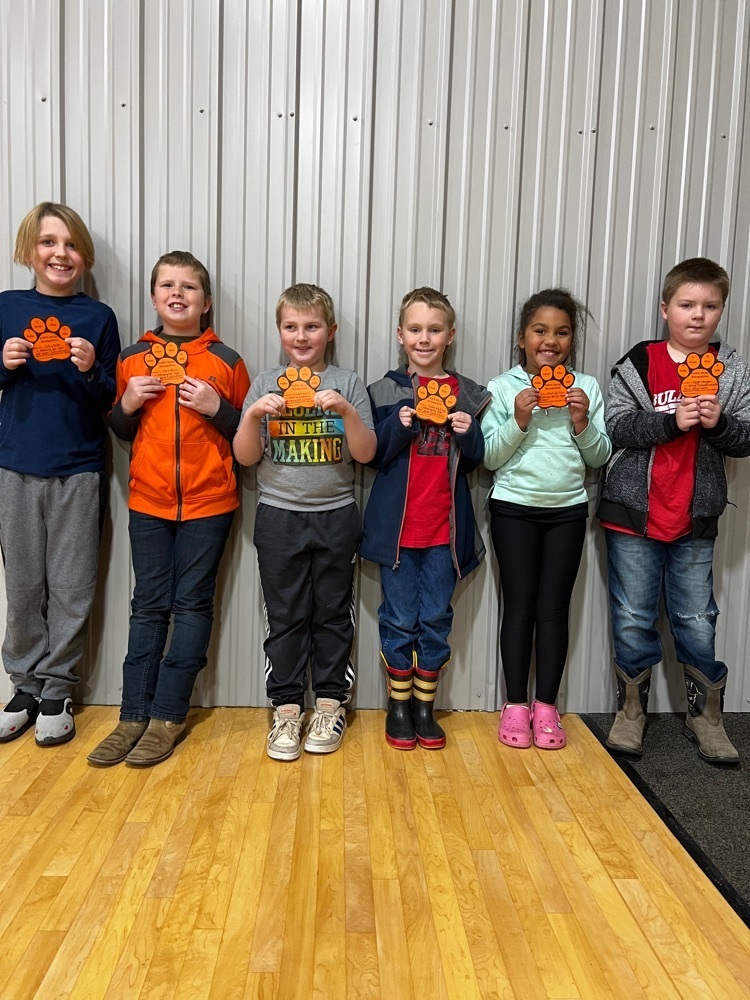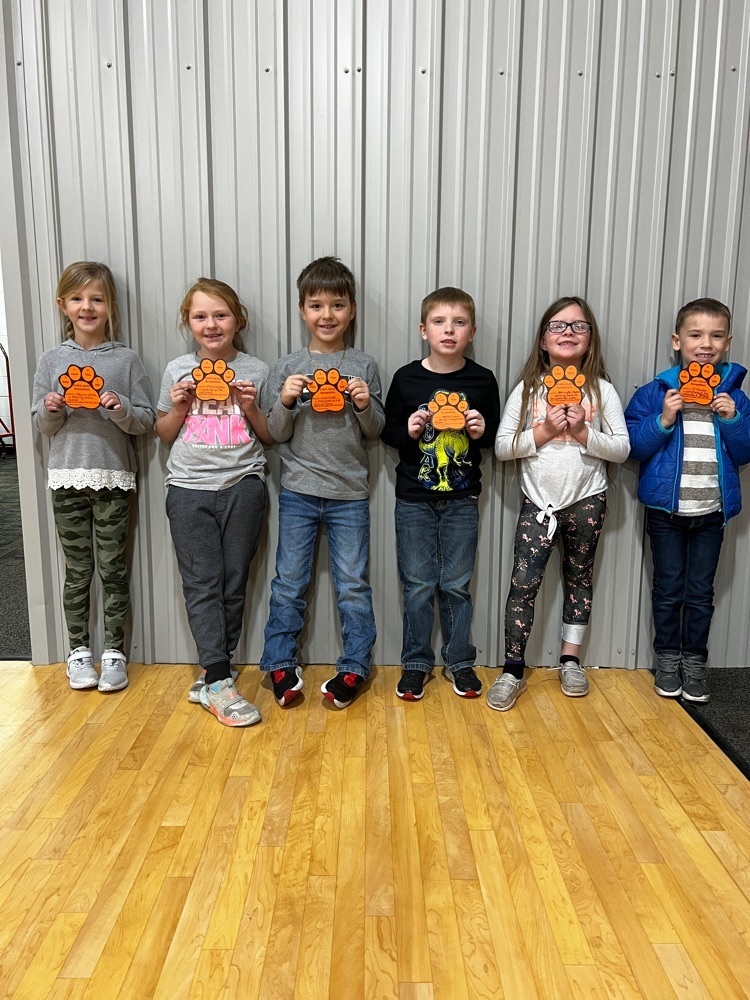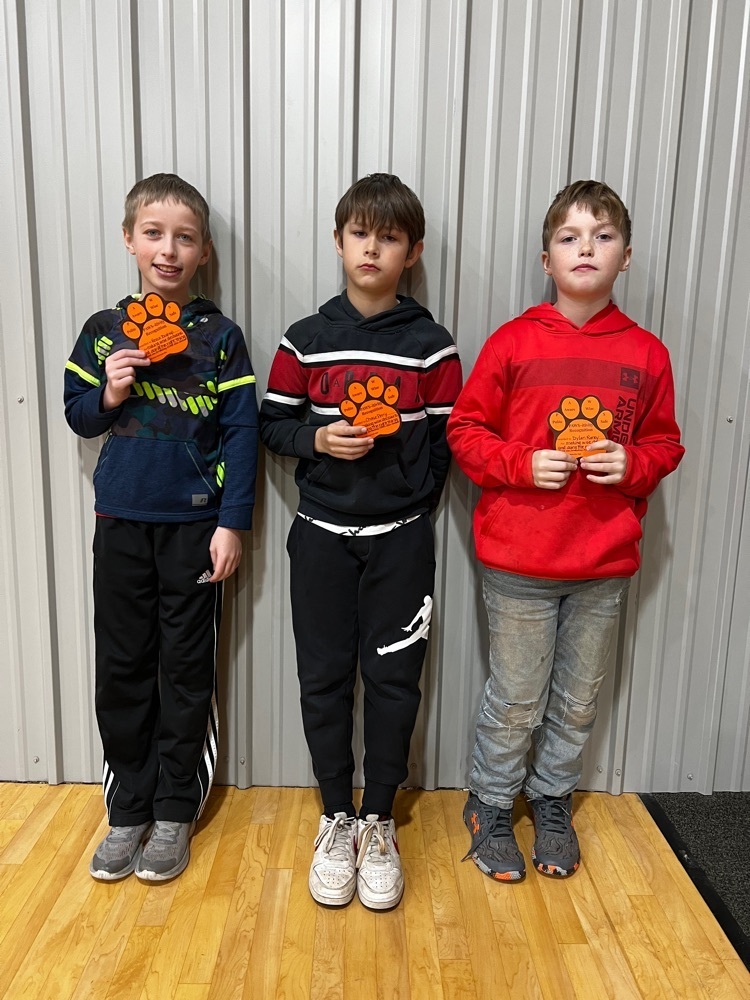 High school baseball game in Tulsa has been cancelled for this afternoon. High school softball will play at home today at 3:00.

On Friday, March 11, YPS will be busing students over to the Jim Thorpe Park to the Civil War Reenactment (see flyer for more information) to participate in the free school day offered by the Yale Chamber of Commerce. Students will attend in two-hour shifts starting with the youngest students at 9:00 am and ending with the high school students at the end of the day. Administration and staff will be providing more information through their communication apps. We are aware of the impending cold weather that may affect and/or cancel these plans as we draw nearer to the date.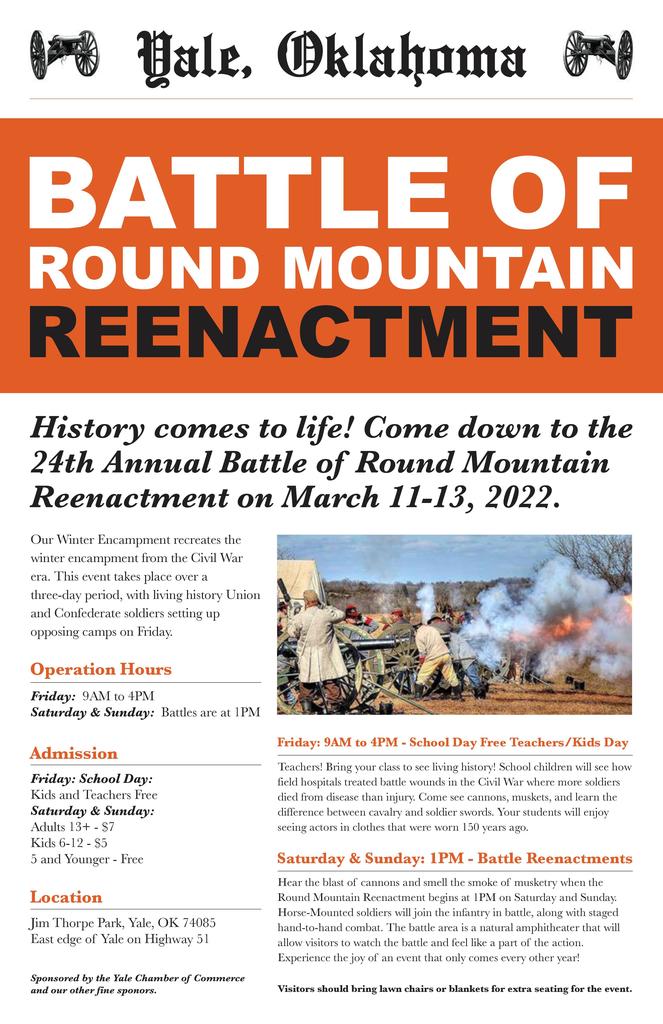 HS softball will scrimmage here today, March 7th beginning at 3:15 p.m.

All JH and HS baseball and softball games have been cancelled for today.

Congratulations to our 13 Yale FFA and 4-H members that participated in the Payne County Premium Sale last night. They were awarded a total sales of $52,250. Thank you to Mr. Fuss, parents, and community members for all of your help and support for these young men and women. Great job!

Congratulations to the following 4-H and FFA members on qualifying for the Payne County Premium Sale! Emily Morphew Zoie Williams Payton Glasby Addie Morris Emma Shenold JW Truitt Jesse Poole Haleigh Glasby Synnove Talley Koda Mueggenborg Gracey Morphew Koy Moonen Brylee Fuss Buyers dinner tonight at 5:30 Premium Sale starts at 7:00 We are proud of you!!

Schoolwide Advisory Council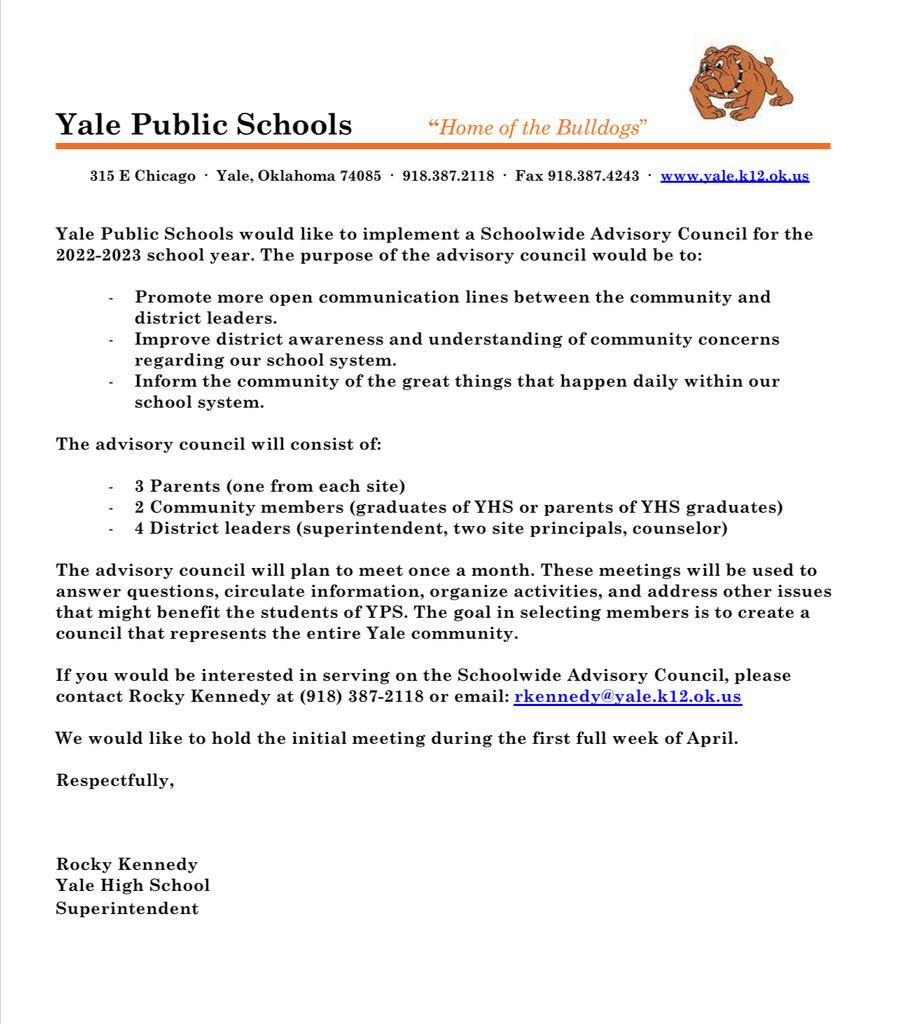 Today's baseball games will be played as scheduled. JH will play in the M-O tournament at 12:00. The HS will play at Woodland at 4:30.

We would like to run buses at 9:30 to get bus riders home. The issue is that we need confirmation that someone is home to take care of the child. If you would like your child to ride the bus home, please email
thuff@yale.k12.ok.us
or text 918-399-9652 to confirm that a parent is home. Elementary parents please contact you child's teacher.

Due to electrical issues, Yale Public Schools will have to close today, Thursday, March 3. Phones are also not working. Elementary parents, please contact your child's teacher to come pick up your child. JH/HS parents, please email Tammy at
thuff@yale.k12.ok.us
For immediate help call Coach Kennedy at 918-855-1993

Dr. Seuss week starts Monday at the elementary. See you in your pjs! 📚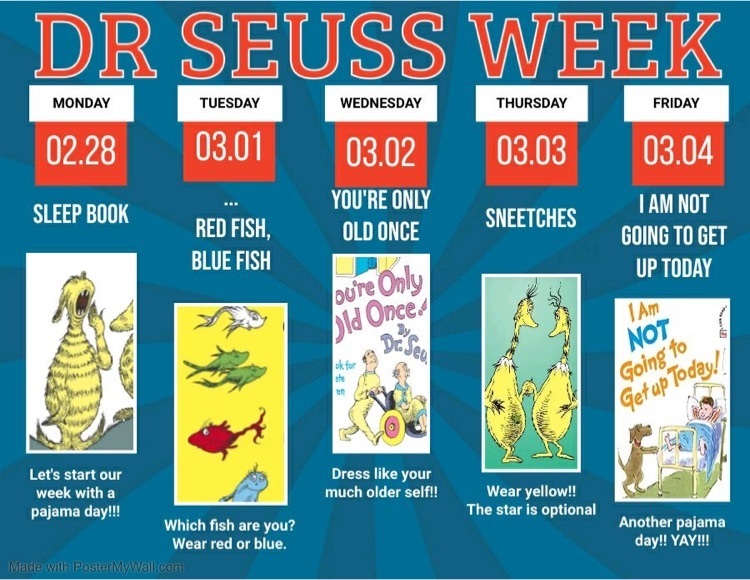 Hope to see you there! 🏐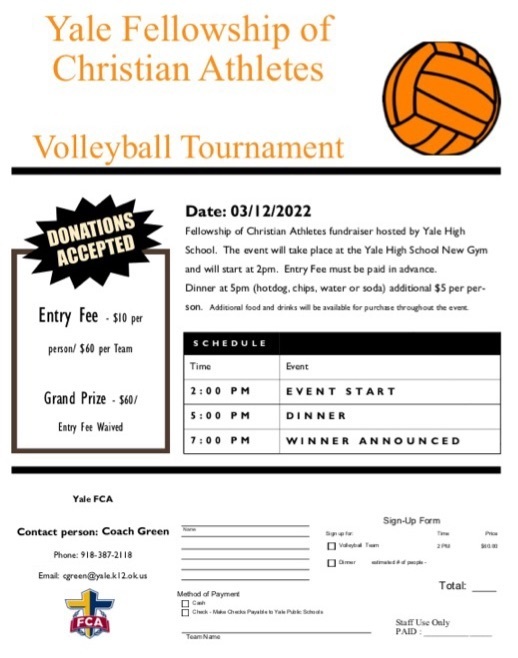 The Daddy/Daughter and Mommy/Mister Dance scheduled for tomorrow, Saturday, Feb. 26 has been rescheduled for next Saturday, March 5. It will still take place in the Junior High/High School Cafeteria from 6:00 to 8:00 PM This is a fundraiser for the Bulldog football program.

Due to the inclement weather, Yale Public Schools will be in distance/virtual learning tomorrow, Friday, Feb. 25.

Due to the inclement weather, Yale Public Schools will be in distance/virtual learning tomorrow, Thursday, Feb. 24.

Yale Family, It appears that winter is not yet over. Due to the incoming inclement weather, Yale Schools will be doing virtual/distance learning on Wednesday, Feb. 23. Teachers should be sending home materials today with your students. We ask that everyone does the best they can with the circumstances with which they are dealing. Meals will not be available due to travel conditions. Please stay safe and warm!

We look forward to seeing our families dance the night away this coming weekend! If you have any questions, please reach out to Coach Sullivan by email at
ssullivan@yale.k12.ok.us
. Thank you for supporting our football team!