Congratulations to our 5th grade students who have earned high academic achievement during their time at Yale elementary. Valedictorians: Karis Mueggenborg Kinley Thurman Hadley Tubbs and to our Salutatorian: Micah Hodgett We look forward to hearing your speeches at your graduation!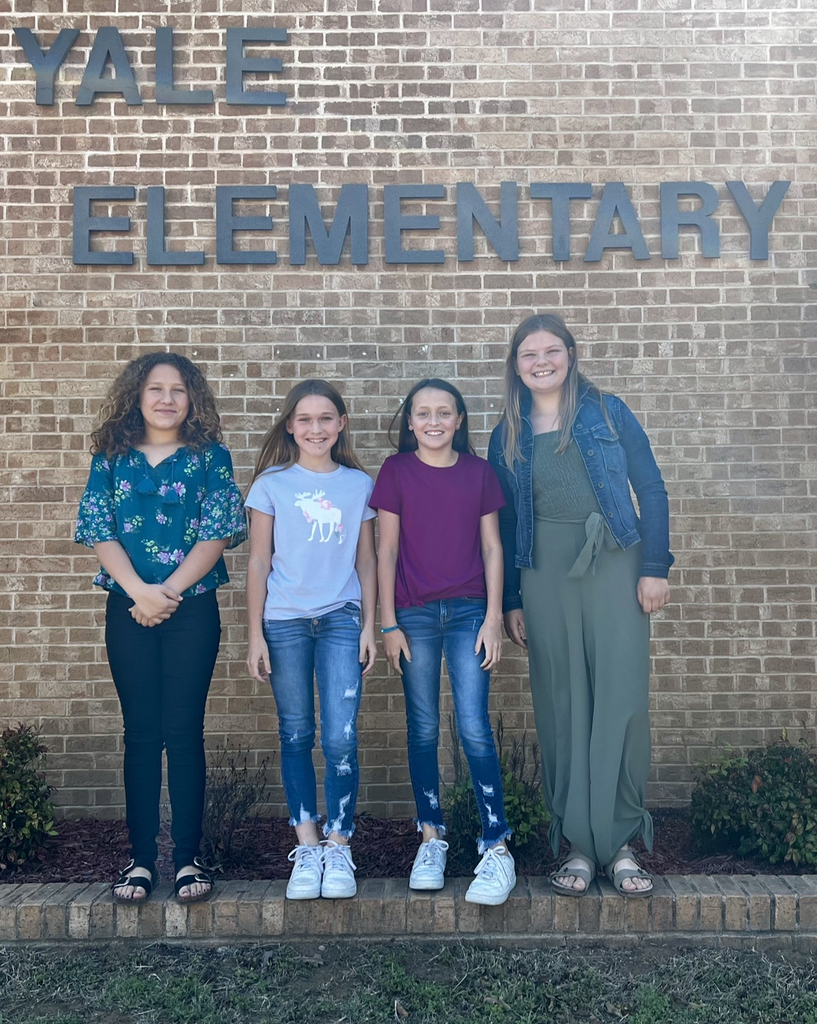 PAWS Awards! 🐾🖤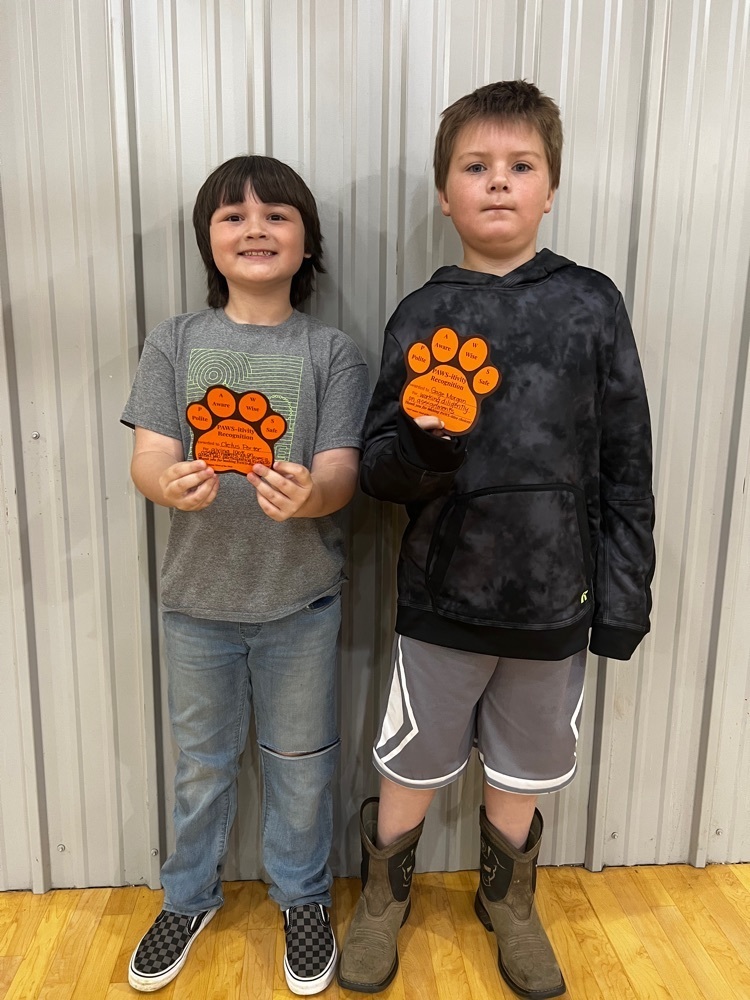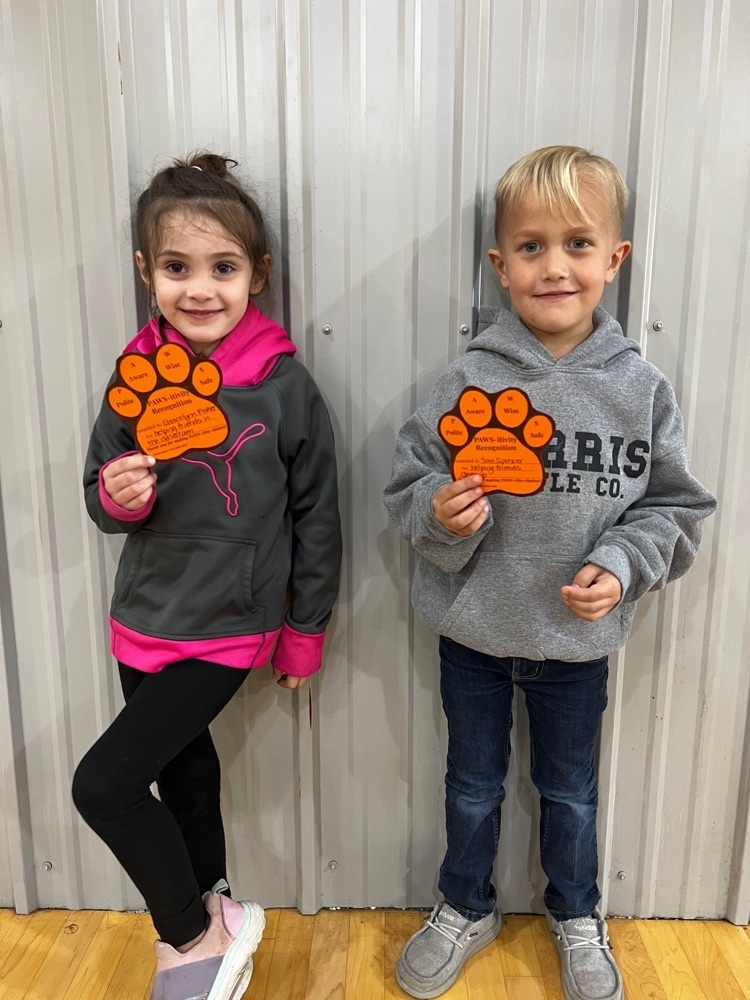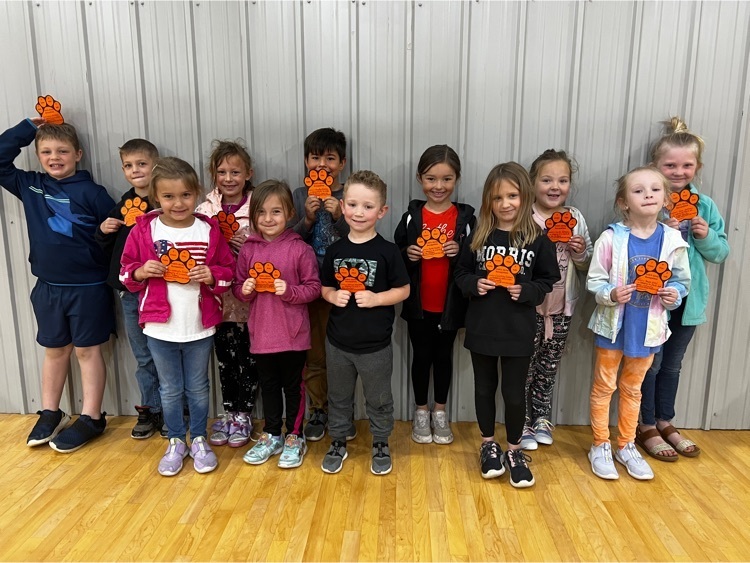 Yale Public School's Jr/Sr prom is tonight from 7:00-10:00. Law enforcement will be present all evening. We want our students to have a fun, safe evening.

This week's testing schedule for our 3rd-8th students: Wednesday, April 20 and Thursday, April 21, students will be taking the Math test. Please make sure your elementary and middle students are not absent!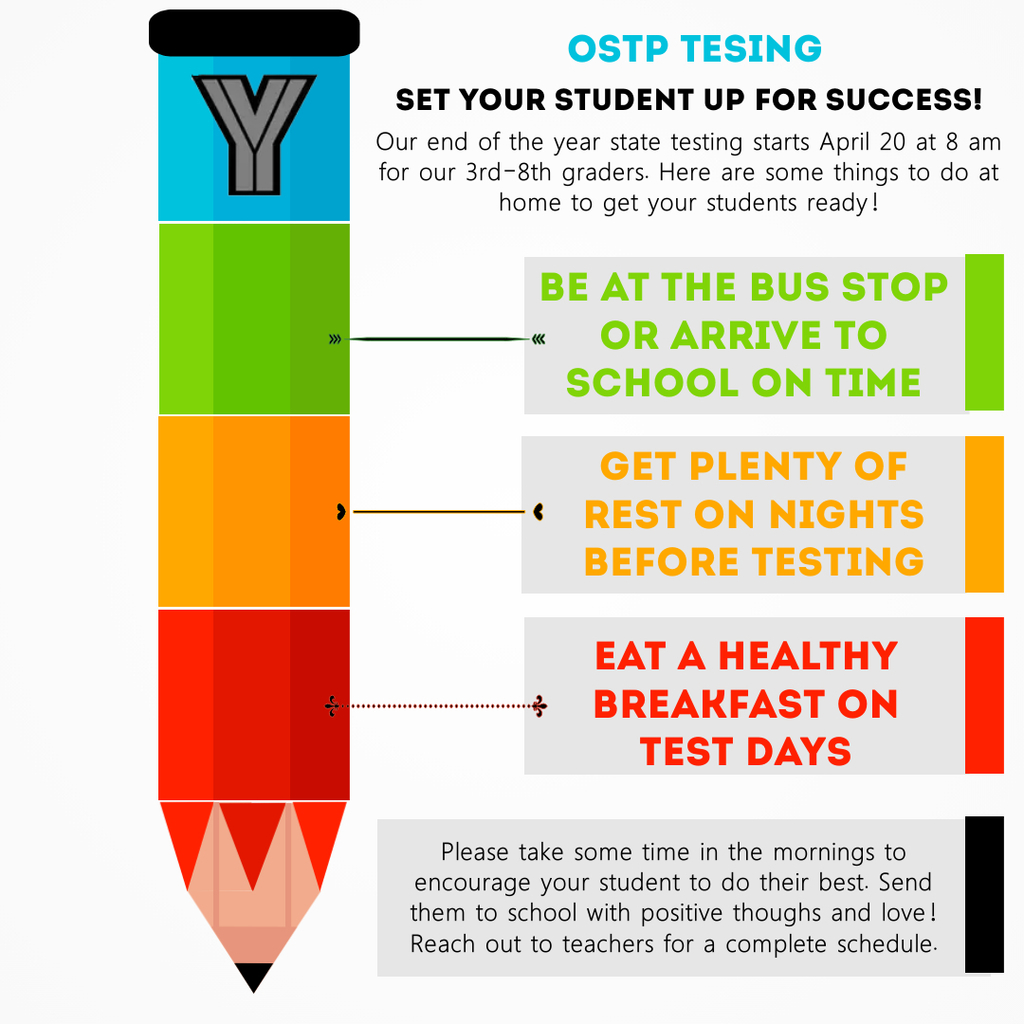 Class A District Baseball Tournament April 21& 22, 2022 At Pioneer High School Thurs. 11:00 a.m. Pioneer v Yale 1:00 p.m. Drumright v Loser game 1 3:00 p.m. Drumright v Winner game 1 Friday If two teams remain 1:00 p.m. First Championship Game (Time is subject to change) 3:00 p.m. If Necessary Game If three teams remain 1:00 p.m. Drumright v Yale 3:00 p.m. Pioneer v Winner of 1 pm game
All end of year events are also on daily events. Softball and Baseball brackets have been added too.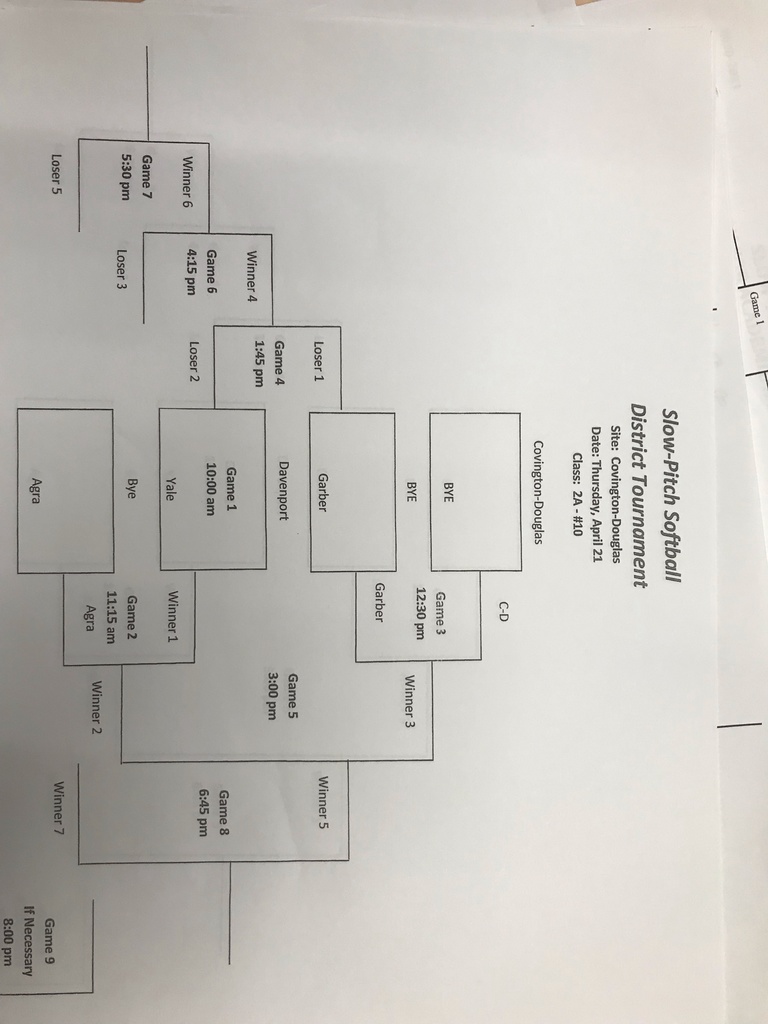 FFA Calf Fry and Labor Auction Sat. April 23, 2022 5-7 pm HS Multi Purpose Building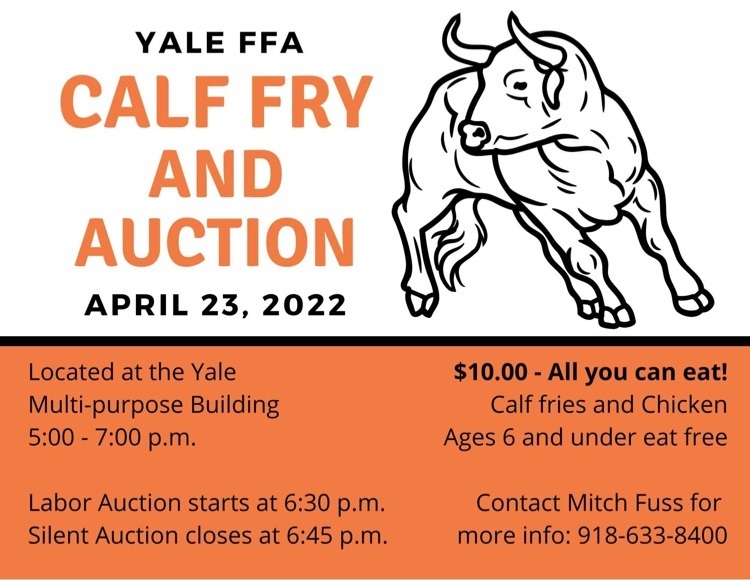 Updated! Some events have been edited and added. Thanks for understanding!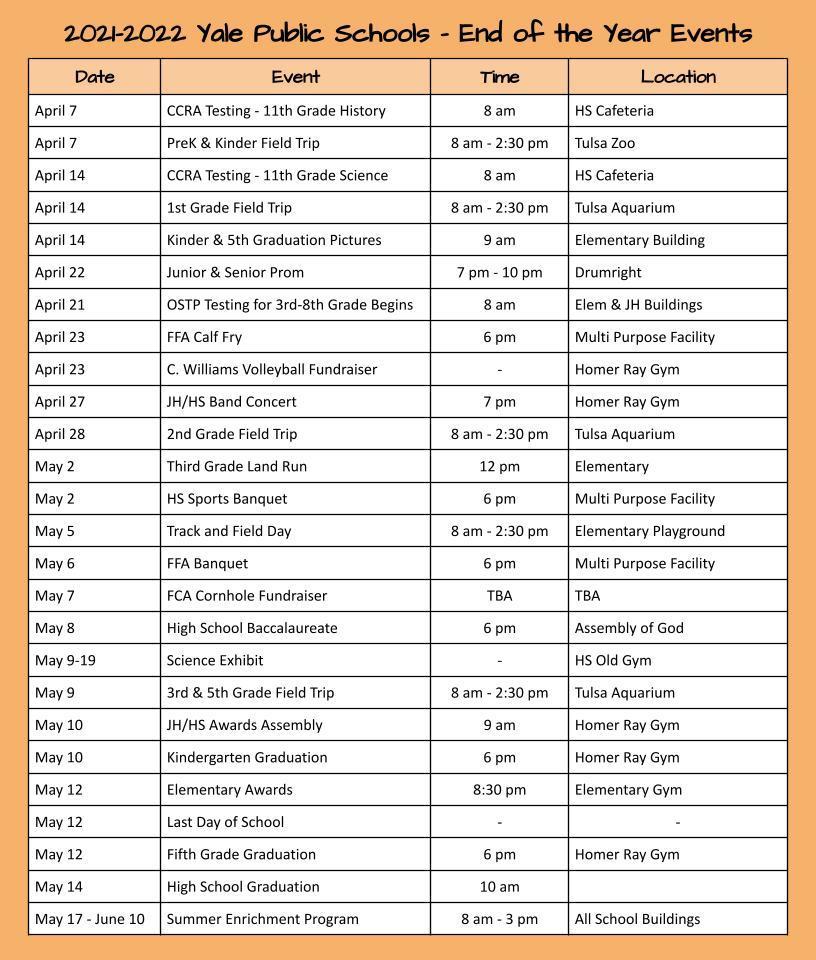 Senior Night for the HS Baseball team is this Friday at 6pm after the JV game. ⚾️

Yale High School All-Sports Banquet. Monday, May 2 at 6:00 in the high school cafeteria.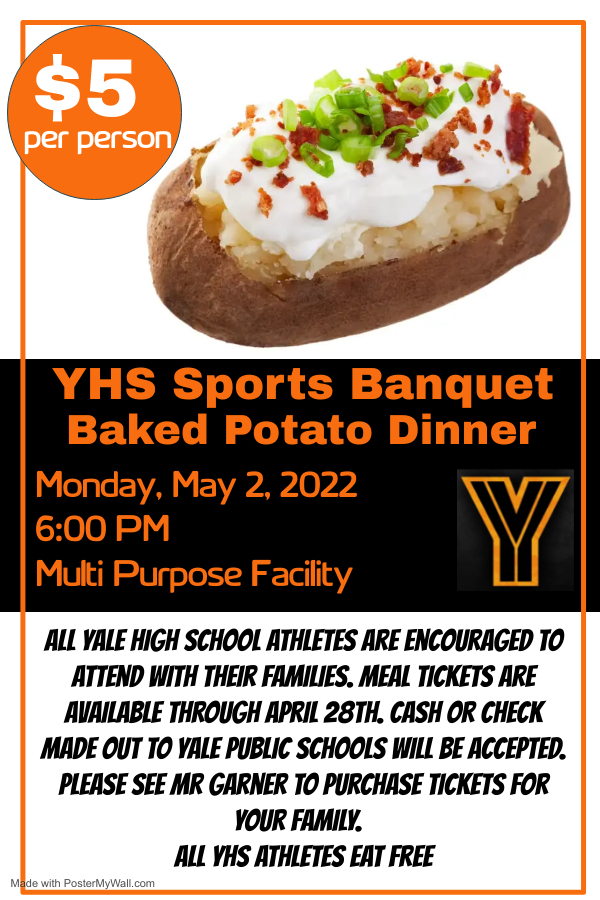 Today's junior high baseball game has been cancelled.

The elementary library wants to thank all those who came and supported our book fair! Using the funds we received from the fall book fair, we were able to buy books from this fair for our collection. They will be added to our library this week for students to check out. Thank you for supporting our library!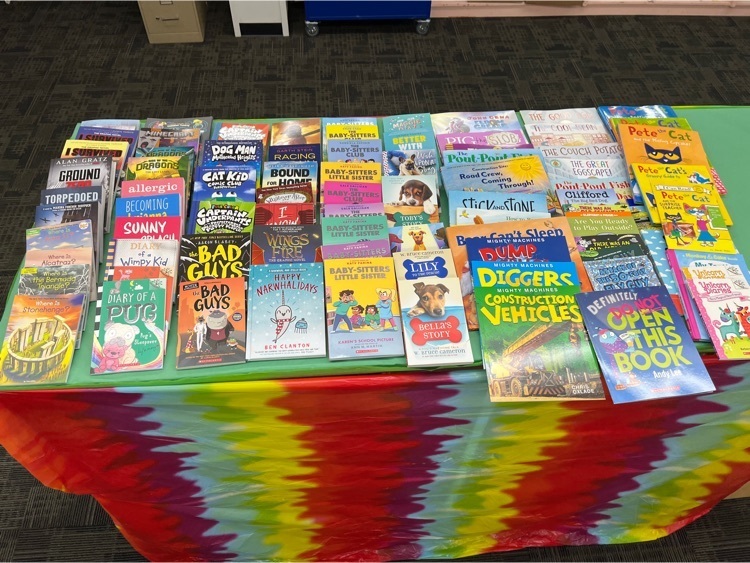 Yale Public Schools End of the Year Schedule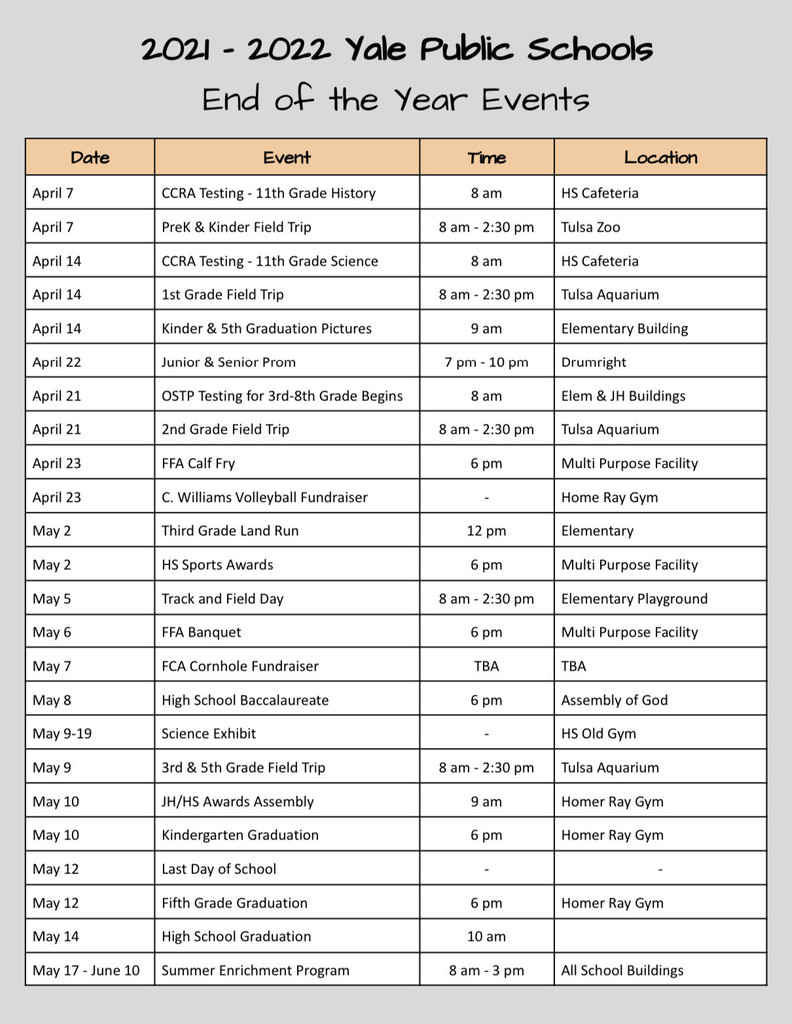 March Pups of the Month PK - Kreed Morphew K - Makayla Foutch 1st - Adalynn Thurber 2nd - Paxtyn Wilks 3rd - SB 4th - Ava Moore 5th - Chayton Stewart

Tomorrow morning, Juniors will be taking more state mandated tests. All Juniors are required to test . Please report to the HS cafeteria by 8:45 in the morning. Thank you for your cooperation and punctuality.

Here's something to do at the Yale library on your Friday out of school!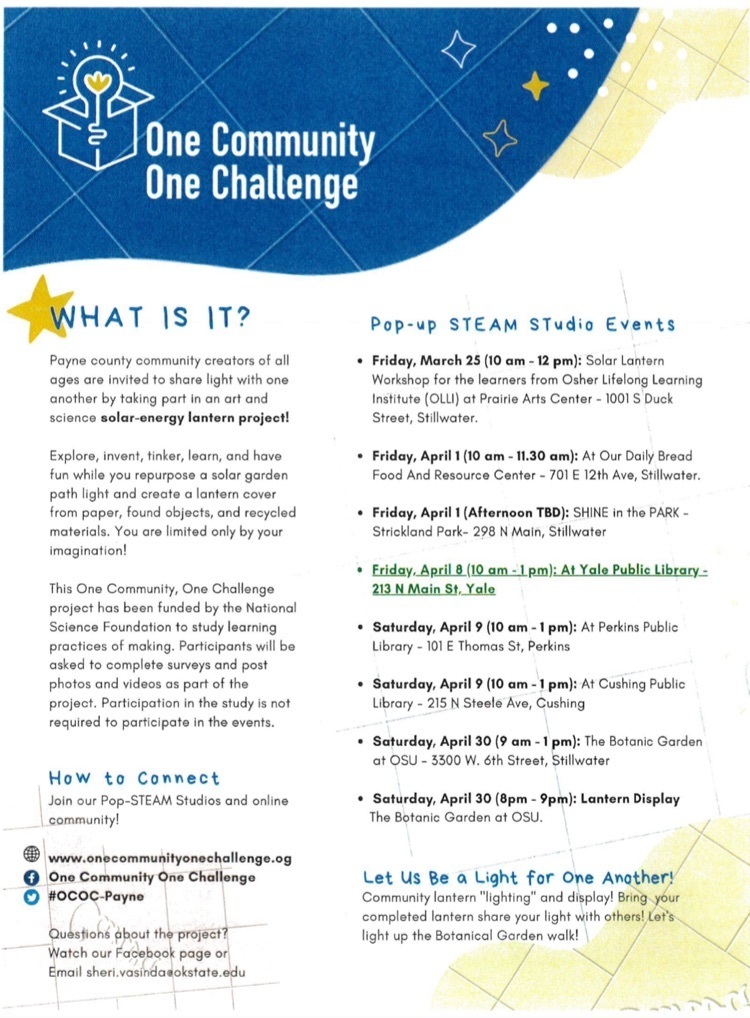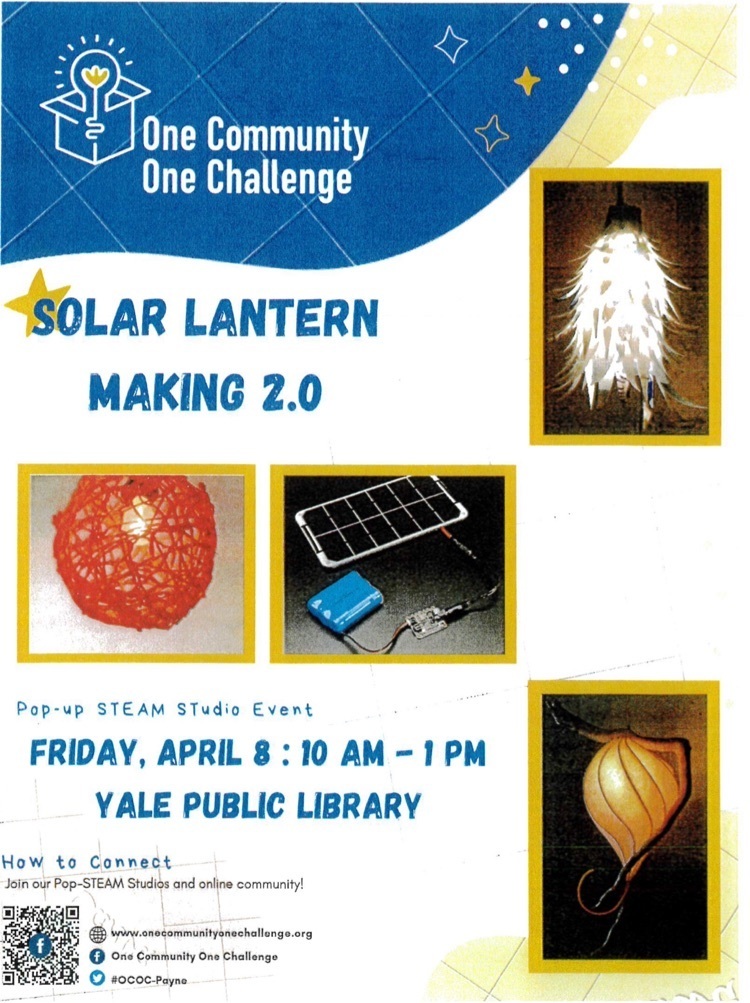 The lockdown for YPS has officially ended. Thank you to everyone for your cooperation and understanding. Yale Schools is very appreciative for all of the local law enforcement agencies that assisted today in keeping our students, staff, and community safe.

Due to safety concerns, YPS is asking all parents of students living within the city limits of Yale to make plans to pick their child up at the end of the day through the car line at the elementary or the front of the high school. Bus routes will run for students living outside of the city limits of Yale. If circumstances improve, we will run bus routes as normal and another notification will be sent out. All students and staff are safe.

Yale Public Schools is going on lockdown. Everyone is safe. No students will be allowed off campus until further notice.

Yale Public Schools is going on lockdown. Everyone is safe. No students will be allowed off campus until further notice.